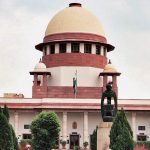 New Delhi: The supreme court Thursday sought response from states running orphanages, the mode of adoptation and the treatment meted out to children there while observing that nothing can be more disastrous than selling of children in the name of adoption.
"A child cannot be bartered away at the whims and fancies of the person in charge of an orphanage," said  a three-member bench comprising chief justice Dipak Misra, justice AM Khanwilkar and justice DY Chandrachud.
The bench  was hearing an appeal of National Commission for Protection of Child Rights (NCPCR) against a Calcutta High Court order staying its proceedings in a case related to alleged gross violation of rights of orphaned children in West Bengal.
Expanded the scope of the plea filed by the NCPCR, the apex court has ordered that all states be made parties through their chief secretaries and sought their response within two weeks. The court  has asked the states to respond with details about orphanages and facilities being given to orphan children at those centres and also the procedure followed in giving children on adoption.
"That being the position, when the children are sold, nothing can be more disastrous than this. This is a situation which cannot be allowed to prevail. A right of a child in a society is sacred, for the future of the country depends upon the character and the destiny of the child and the state has a great role in that regard. It is in the realm of protection."
"In view of the aforesaid, it is necessary to have a comprehensive view of the entire country pertaining to running of orphanages, the mode and method of adoption, the care given and the treatment meted out to the children. For the said purpose, it is necessary that all the states shall be added as respondents in the matter," the bench ordered.
The top court also asked the states to respond as to whether human rights court in every district, as mandated under the Commissions for Protection of Child Rights Act, have been set up or not.
In the High Court, the national child rights body and the West Bengal government were at loggerheads over the alleged trafficking of 17 children from an orphanage in Jalpaiguri.
The NCPCR had blamed the local administration for the thriving of the trafficking racket but the state government questioned the jurisdiction of the apex child rights body.