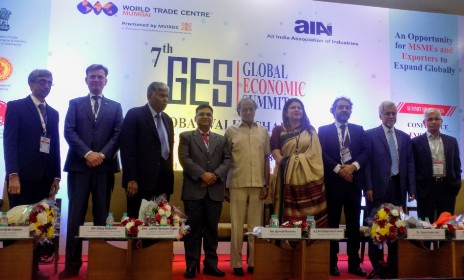 Mumbai: The Odisha MSME additional chief secretary, LN Gupta, Thursday said, "Integration of MSME sector with global value chains requires the sector to focus more on innovation, be it product innovation or process innovation".
"For that to happen, steady supply of skilled human capital needs to be ensured to drive the experiments with new ideas", he said adding, "And, to make the integration effective, availability of world class infrastructure backed by state of art logistic services is necessary"
Gupta, while while addressing the  inaugural session of 7th Global Economic Summit (GEC) on Global Value Chains at the World Trade Centre(WTC) , here on Thursday, said that the Odisha government has setup Odisha Skill Development Authority (OSDA) with an aim to train 11 lakh youths by 2019-20 and 8.5lakh youths have already been skilled. He said that Odisha has been promoting the brand 'Skilled in Odisha' with an objective to provide outstanding skilled work force comparable to the best in the world.
He further added that promotions of Startups, Innovation and Entrepreneurship remain top priority of the state government , for which government of Odisha has also started Startup Odisha Initiative with the launch of Start-up Odisha Policy last year with a mission to support 1000 start ups and vision of emerging amongst top 3 startup hubs in the country. In last 10 months, 175 startups are registered under the initiative. Besides, 05 registered and 20 other incubators are working under the initiative. We have also launched a massive program of Entrepreneurship development both online and offline, he stated.
The GES 2018 organized by WTC, Mumbai which is being attended by representatives of more than 20 countries and more than 350 delegates. Gupta informed the audience about the various innovative technological interventions introduced by State Govt to facilitate industrial promotions and investment in time bound, hassle free, paperless and transparent manner like GO-SWIFT, GO-SMILE, APPA, GO-PLUS and GO-CARE. He gave a call to the investors to visit Odisha during ensuing MSME International Trade Fair 2018 to be held during March 5th-10th, 2018 and 2nd Edition of Make in Odisha Conclave during November 11-15TH, 2018 and to explore business opportunities.
Thereafter, the Team Odisha led by L N Gupta comprising of DEPM and representatives of World Trade Center, Bhubaneswar met the ambassador of Poland, representative of United Nations, ISRO, minister counselor Uganda high commission ,counselor  high commission of Bhutan, director general Trade Promotion of Cambodia , seeking their support in attracting investment and their participation in MSME International Trade Fair scheduled in March 2018 and the Make-in-Odisha Conclave to be held in November 2018.