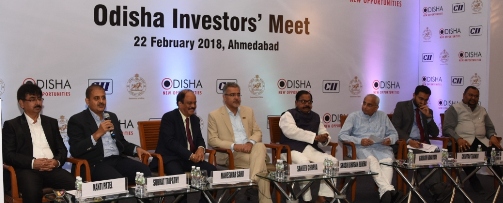 Ahmedabad: The Team Odisha  discussed with investors, industrialists  and  trade organisation, here on Thursday, as part of its road show in the city before the bi-annual  Make-in-Odisha Conclave to be held in Odisha in November, this year.
The Team Odisha led by finance minister, Sashi Bhusan Behera, and industries principal secretary, Sanjeev Chopra, met the top executives of Adani group, Welspun, Manpasand Beverage, Arifin India,  Flourish Pure Food, Amar Group, Torrent Cables, Gokul Agro Resources, Arip Life Science, Vortex Cotton, Sevgio Energy besides the office bearers of Confederation of Indian Industries(CII)  and explained them about the investment eco-system in Odisha.
Behera said that the state government is targeting to attract investments to the tune of Rs 2.5 lakh crore with a view to generate employment opportunities for 30 lakh people as part of its Odisha Vision-2025. He said that the state with its Single Window Clearance policy has put in place an investment friendly eco-system in the state. The state has cleared  76 proposals worth Rs 2.01 lakh crores out of the total 134 proposals received during the Make-in-Odisha Conclave 2016.
Behera said that the state is encouraging investments in the sectors like agro-industries, marine food processing, plastic, chemicals & fertilizers, tourism and textiles. He said that the state government is offering incentives for investments in these sectors. According to him, land is allotted at subsidized rate at Angul Aluminium Park, jointly developed by Nalco and Idco.
The industries principal secretary said that Team Odisha will host road shows at US, Germany, South Korea, Chin and Japan besides Delhi, Bengaluru, Visakhapatnam, Channei, Coimbatore in India to invite investors to the Make-in-Odisha Conclave 2018.
Former Gujarat cadre IAS officer Maheswar Sahoo co-ordinated the event at Ahmedabad .