Bhubaneswar: The BJD party leader in the  Lok Sabha, Bhartruhari Mahtab, and the chief whip Tathagata Satapathy have pressed for acceptance of the resgination of Kendrapada MP Baijayant Panda from the lower house of the parliament.
Mahtab and Satpathy, in the letter to the Lok Sabha speaker Sumintra Mahajan, have stated,  "I request you to kindly accept his resignation forthwith, since he ceases to be a MP as per Constitution & Law, so that the necessary consequences may obtain and follow." Stating that Panda, who has got elected on a BJD ticket in 2014, has already resigned from the primary membership of the BJD party, the duo have pointed out, he has no rights to continue as an member of the parliament.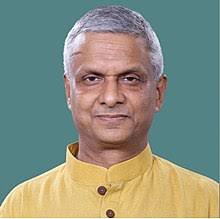 The ruling BJD had suspended Panda on January 24, 2018, for his alleged involvement in several anti-party activities post Panchayat elections. Panda's political coordinator Debu Mallick had also even alleged that the MP used to spread rumours on CM Naveen Patnaik's health condition.
On May 28, 2018  Panda quit the party . Following this he send his resignation papers to the Lok Sabha speaker Sumintra Mahajan.