Bhubaneswar:The fortnight long Jagannath art exhibition Sarbe Bhabntu Sukhina was concluded at Suvadra Art Gallery on Saturday. State cultural secretary Manoranjan Panigrahi was the chief guest and Income Tax commissioner Sarat Dash was the chief speaker of the occasion.  Secretary Odisha Lalitkala academi Manash Jena also graced the exhibition on the closing day.
As many as 50 artistes from different parts of the country showcased their works in the gallery which drew the appreciation of the art lovers those who visited the exhibition during the 15 days. Sunil Kuswah's painting of Mirabai, Pankaj Varma's Samarpan,Chintamani Biswal's Mastchya Avatar, Binodini Behera's Lord Jagannath as the Sabar Devata drew huge crowd. Artistes like Manash Ranjan Jena, Chintamani Biswal,Laxmidhar Rana, Subhamay Biswal,Sudhasat Mishra,Binodini Behera,Kishore Dalei and Rabi Narayan Rath were felicitated on the occasion for their contribution of art.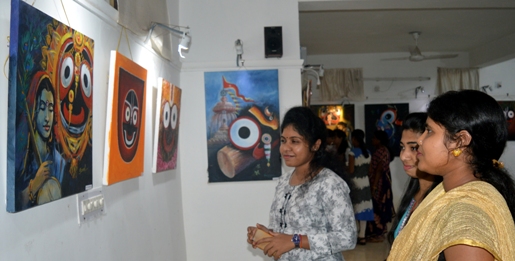 Sanjukta Bal a loyal visitor to various art galleries of Bhubaneswar stated that' Suvadra art gallery has been promoting art in an constant manner and nothing can match this exhibition on Lord Jagannath . Another visitor Jing Li from Taiwan felt that Lord Jagannath's paintings gives the visitors a chance to explore his rituals  and folk tales woven around him. Many other eminent guests like Usta foundation's director and eminent Painter Jagannath Panda, Gallery chairman Surya Rath,gallery director Ashok Nayak, Dhauli Art & Craft College's dean Panchanan Samal were present.