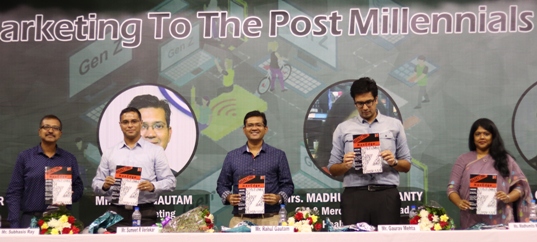 Bhubaneswar: The Marketing Association of XIMB( MAXIM) hosted the annual business conclave Mercatique 2018, here on Sunday. The theme for this year's conclave was 'Marketing to the Post-Millennials'. This conclave was aimed at addressing the students at XIMB to help them gain new perspectives on existing and emerging market solutions.
CMO & Golabal Marketer Sumeet R. Verlekar, Ford India vice president-marketing, Rahul Gautam, Health & Glow general manager and merchandising head MadhumitaMohanty and GirnarSoft chief marketing officer Gaurav Mehta were the speakers for the occasion. XIMB professor Subhasis Ray was the moderator.
Sumeet R. Verlekar opened with how the post-millennial stand out and the factors that should be considered when marketing to them. Gen Z is extremely tech-inclined and has a low attention time span. They need short, snack-able content which is less focused on data and more on visuals. He concluded his presentation with a summary of what it takes to appeal to Generation Z.
Rahul Gautam started to elucidate on how his personal experience of being a father to Generation Z kids has made him realize the vast changes that are coming in the future. He explained how this generation values self-education and will start their own venture rather than submit to the status quo. He showed how Ford designed its ad campaign for this mobile-first generation. He concluded his session by stressing on the importance of psychology in marketing.
Madhumita Mohanty dived into how this generation can multitask effortlessly. She then outlined how the priorities and values of this generation are very different from the previous ones. They have heightened individualism and prioritize fun and experiences over sacrifice. She spoke about how social media influences are now preferred to celebrities as far as endorsements are concerned. She finished by explaining how emerging brands like Wow Shampoo and Hooda Beauty have designed their product and content based on customer feedback, and how that has led to their success.
Gaurav Mehta started with the marketing jargonMECE – Mutually Exclusive Collectively Exhausting. He stressed the importance of understanding the cultural values of your customer. He went on to explain how Generation Z is good at figuring out their life priorities. They are born in an era of comfort and have more avenues to make money. Their acceptance of failure is higher than the previous generation. He concluded with how this generation is homeward bound.
Prof.Subhasis Roy and MAXIM's shadow member Gaurav Seth also spoke.
The MAXIM's marketing magazine – MaxEdge was released on this occasion.