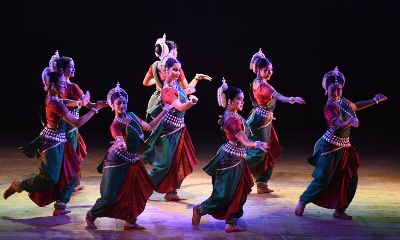 Bhubaneswar: Bollywood dream girl Hema Malini wowed the audience with her grace and composure at the 24th OMC Guru Kelucharan Mohapatra Award Festival 2018, here at Rabindra Mandap on Sunday.
The classical dance exponent, film actress and Lok Sabha MP from Mathura inaugurated the  award giving ceremony on the concluding day today. She along with other dignitaries gave away the Nalco GKCM Awards 2018 to Odissi guru Lingaraj Behera and veteran thespian  Sachi Das. The Nalco GKCM Yuva Prativa Awards were conferred on Sonali Moahaptra and Subikhya Mukherjeee for Odissi dance, Swati Sinha for Kathak and Rohan Suresh Dahale for Odissi music. A book—Dancing into Eternity published by Srjan director Ratikanta Moahaptra was launched on the accasion. The book is about the life, work and views of late Guru Kelucharan Mohapatra.
Odisha tourism and culture minister Ashok Charan Panda, culture secretary Manoranjan Panigrahi graced the evening
The host of the show, Srjan, presented a neo-classical Odissi dnace Kirwani Madhurima. Scripted by Pt. Nityananda Misra to the original music composition of Dr.Vyzarsu Balasubramaniam, Kirwani Madhurima is a choreography of Ratikant Mohapatra. The troupe them then presented Maati- a dance choreographed based on the poem by the same name by iconic Odia poet Radha Mohan Gadanayak. While the script adaptation is by Jaydev Das and the music scored by Laxmikant Palit, , the dance choreography is  by Ratikant Mohapatra. Dancers, Rajashri Praharaj, Ritu Sengupta, Pragna Parimita Das, Riyanka Chakrabarty, Aishwariya Singhdev, Sipra Swain, Maya Krishnamurty, Preetisha Mohapatra and Reebdhita Barua presented this exemplary composition with great energy and synchronization.
Later, while talking to media persons, the Bollywood actress turned politician said that for he dance is first and acting and politics follows. Paying rich tribute to Guru Kelucharan Mohapatra, she said, "The association with Guruji has enriched her". She said that her elder daughter is a direct student of Guruji and the younger one is learning from Guruji's daughter-in-law Sujata Mohapatra. Speaking about the filmy dance, she said there should not be any comparison between classical dance and filmy dance. "They are good at their respective arena", she added. The BJP Lok Sabha MP from Mathura, who stays Hotel Mayfair, said that she loved the hotel ambiance and the food. "Indian food and Odissi food are my favourite in the hotel", she said.