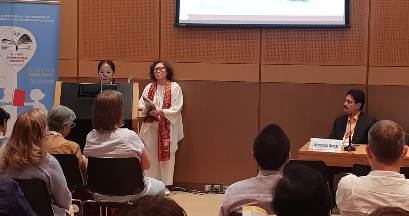 Rourkela: The Rourkela Steel Plant chief of communication (CoC), Ramendra Kumar, an award winning author had the privilege of chairing two sessions of the 36th IBBY (International Board on Books for Young People) Congress held in Athens,  recently.The Congress that attracted about 450 delegates from 70+ countries  is considered to be the biggest biennial event on  planet earth  focusing on children's literature.
Ramendra presented a paper on the theme 'Brave new world of Indian children's literature' at the Congress. During the sessions Ramendra also touched upon the global relevance and contemporaneity of the Jagannath consciousness. He chaired two sessions in Congress.
It is noteworthy that Ramendra was the only Indian writer to have got this honour.
Ramendra  is  an acclaimed children's  writer with 33 books to his name.  His writings have been translated into 28 languages – both Indian and foreign. He has won 31 awards in the competition for writers of children's literature organised by Children's Book Trust (CBT), over the years.  This tally is the highest by any writer.
An inspirational speaker and story teller, Ramendra has been invited to participate in several leading festivals including Jaipur Litfest & Bookaroo etc as well as seminars  organised by Sahitya Akademi, IGNOU and  NBT,  among others.