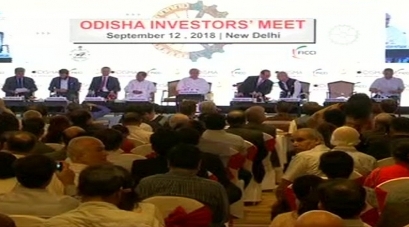 Bhubaneswar: The Odisha chief minister, Naveen Patnaik, tempted investors to put up their money in the state. Giving a motivational talk, Patnaik called upon the captains of industries to join the Make-in-Odisha Conclave in Bhubaneswar to have a first hand knowledge about the investment opportunities in the state. He said that Odisha is fast emerging as manufacturing hub of Eastern India.
The chief minister was addressing the Investors' Meet at New Delhi on Wednesday. The Meet was part of a series road shows the state is holding as a prelude to the biennial Make-in-Odisha Conclave, to be held from November 11 to 15, 2018 .
"Today, Odisha is the Aluminium Capital of South Asia accounting for over 54 per cent of the country's production. We are also counted as the Steel Hub of the country contributing to about a quarter of India's steel production."
He said that the state government's "Vision 2030: Development of Downstream & Ancillary in Metal Sector",  aimed to further vitalize downstream ecosystem of the state.
Dwelling upon the infrastructure facilities offered by the state, he said Odisha's port capacity has increased ten times to 190 million tonnes per annum at present. Power generation has increased more than three folds and road network has increased by over 50%.
Patnaik on this occasion launched Invest Odisha, a single user-friendly portal to enable the industry make informed investment decisions by comparing the competitiveness of Odisha with other states and countries. It also engages with the investors through a unique chatbot  'Odishi', which provides customised information to the users.
Odisha, in the last six months alone,  has conducted ground breaking ceremony for 50 projects entailing investments of over Rs.17 thousand crores with potential to provide employment opportunities to thousands of people in the state.
The chief minister said that the state is poised to be amongst top 3 start-up hubs of India by 2020. Within a month of launching Start-up Odisha initiative, 250 start-ups have come up in the state.