Konark: Accomplished Kathak exponent Yasmin Singh's troupe enthralled the audience with its rhythmic portrayal of tales from epics and the Bhakti movement at the Konark Festival, here on Sunday.
Yasmin of Raigarh Kathak School in Chhattishgarh presented The Divine Krushna depicting Lord Krishna's childhood activities adored by all the Gopis for Rasleela. The next recital was Shiv Om that described the culmination of the process of creation followed by Shakti Swaroopa, saluting Indian women power. The final presentation was Anubhuti: the Raigarh Kathak, a unique form that emanated from the Raigarh Royal family.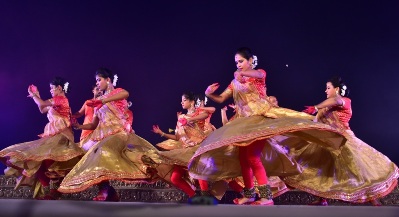 Kolkata-based Sharmila Biswas, a noted Odissi choreographer, presentd Darshan, a four part production celebrating Lord Shiva creating Tandava and Pravati vibrating Lasya. Sharmila along with the dancers of Odissi Vision & Movement Centre performed Kalashree depicting the beauty of Kalaa, the art . This was followed by Shirngar and Ecstasy of celebration.
The Revenue Divisional Commissioner Mahendra Kumar Mallick, culture director Bijay Nayak, tourism director Archana Patnaik, joint director Utpal Kumar Pati, secretary Odisha Sangeet Natak Academy Bijaya Kumar Jena, and GKCM Research Centre chief Sangeeta Gosain graced the second day function of the Festival. The programe was compeered by Dr. Mrutynjaya Rath and Dr. Sadhana Sribastav.