Konark: Dance-drama featured in the Konark Festival on its third day, here on Monday. were today left spellbound by intense performances in the genre of dance-drama.
Accomplished Kuchipudi danseuse Shree Lakshmy Govardhnan presented dance-drama 'Soorpanakha'  and kept the audience spellbound in the open auditorium with Konark temple in the backdrop. She depicted the life and plight of puranic character Soorpanakha through her expression of the emotion, anger and frustration of the central character. Soorpanakha's revolt within for being punished by Sri Ram and Laxman is highlight of the dance-drama. Shree lakshmy , the dancer from Tissur in Kerela who is a disciple of  Guru Pasumarthy Rattaiaha Sarma, also came  up with an item where she invoked Lord Bighnaraja, Hanuman and Sri Krishna.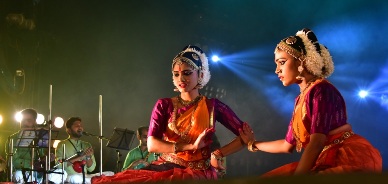 Kuchipudi session came to an end with Thillana, a choreography bearing the creative touch of Shree Lakshmy  and music composition by Dr. M.Balmuralikrishna.
Earlier in the Odissi session, the troupe from Guru Kelu Charan Mohapatra Odissi Research Centre, Bhubaneswar, presented dance-drama Leela Madhuri highlighting the love and courtship between Radha and Krishna. A creative choreography based on 'Kishore Chandranana Champoo', the poetic treatise by Kabisurya Baladev Rath.
Puri Gajapati Maharaj Didyasingha Dev, Delhi police commissioner Amulya Patnaik, OTDC chairman Dilip Tirkey, tourism director Archana Patnaik and eminent ophthalmologist Dr Tara Prasad Das graced the third day function of the Konark Festival.