Bhubaneswar: BJD MP from Balasore Rabindra Kumar Jena has come out as the most magnificent MP of Lok Sabha, according to Fame-India -Asia Post Survey 2018.
Asia Post Survey carried out on behalf of renowned magazine Fame India has come out with a list of 25 Best Members of Parliament, said Sandeep Marwah, chairman of Shreshth Saansad Award Committee.
There are 543 MPs who have won the election in the Lok Sabha. The Fame India-Asia Post Survey jointly selected 25 best MPs of the year 2018 after a survey of 543 MPs those have won the Lok Sabha elections in 2014. The list of best MPs was prepared on several parameters designed for the purpose, said Fame India editor Rajshree. According to her, ministers were not included in the survey.
Fame India and Asia Post had created 25 categories to select the best MPs, to know that how loyal they are towards their responsibilities and expectations of the general public. The Analyst of the Asia Post worked on 10 major points, including popularity, involvement with the public, image, workshops, participation in the House and debate, raising questions in the interest of the public, bringing private bills for the strengthening of democracy, area accessibility, aids and easy availability to the public.
In the magnificent category Odisha MP Ravindra Kumar Jena gets the highest score.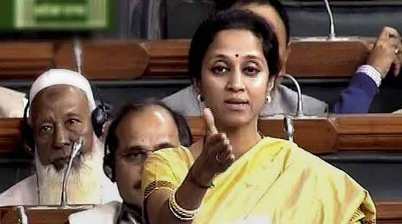 Congress' leader in the Lok Sabha Mallikarjun Kharge has been selected in the excellent MP category. Supriya Sule, NCP MP and daughter of Maratha strongman Sarad Pawar topped as the most energetic parliamentarian. Congress' lone MP from Chhattishgar Tamradwaj Sahu adjudged as the most responsible MP.
The other MPs who have found place in the top 25 list are n the category of unmatchable MP, Delhi's MP Dr. Udit Raj (umatchable MP), BJP MP from Maharashtra Kirk Premji Bhai Solanki(ace influential MP), Kerala MP NK remchandran (most influential MP) and Satna Madhya Pradesh's three time MP Ganesh Singh (most popular MP). Bhadohi MP Virendra Singh Mast (caretaker category), In the Warriors category Maharashtra MP from Ahmednagar, Dilip Gandhi(warriors), Prahalad Patel from Madhya Pradesh (dynamic category), BJP MP from Mumbai, Gopal Shetty (immense capacity) and Congress MP from Assam Sushmita Dev( most talented MP).

Haryana's youth MP Deepender Singh Hooda(most talked about MP) Rajasthan MP Chandra Prakash Joshi( Kamrath), Prem Das Rai, MP from Sikkim( model category), Santosh Ahlawat ( power category), Bihar MP Ranjit Ranjan(successful category), Gujarat MP Punmaben Madam(conscious category). Maharashtra's farmer leader and MP Raju Shetty (personality area).
Uttar Pradesh MP Dharmendra Yadav(young MP), Dr. Sanjay Jaiswal of Bihar(duty), Uttar Pradesh MP Mahendra Nath Pandey (veteran category), , Shiromani Akali Dal's Prem Singh Chandumajra (eligible category) and Uttar Pradesh MP, Bharatendra Singh (active MP).
The survey, along with the general public, public representatives and journalists also asked questions through the stake hold method and their opinion was taken as a basis for selection decision. Data provided by the Lok Sabha was also included for the entire selection process.