New Delhi: In the first ever ranking of startups, Odisha has been adjudged as the 'top performer'. Odisha is ahead of Andhra Pradesh, Maharastra, Tamil Nadu and Delhi in the category.
Gujarat has topped the ranking with the title of 'Best Performer' state.
The Department of Industrial Promotion and Policy (DIPP) of the Government of India has come out with the ranking of states on the basis of developing startup ecosystem for the entrepreneurs.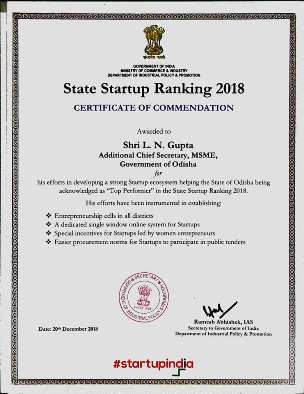 The DIPP, which surveyed 27 states and three union territories, consulted stakeholders of the startup ecosystem and came up with seven key reform areas as the basis of the ranking. The states have been identified as leaders across various categories such as startup policy leaders, incubation hubs, seeding innovation, scaling innovation, regulatory change champions, procurement leaders, communication champions, North-Eastern leader, and hill state leader, said a DIPP spokesperson.
On the basis of performance in these categories, the States have been recognised as the Best Performer, Top Performers, Leaders, Aspiring Leaders, Emerging States and Beginners.
"The entire exercise was conducted in essence for capacity development and to further the spirit of cooperative federalism. Awareness workshops in all states, knowledge workshops in leading incubators, pairing of states for intensive mentoring, international exposure visits to the US and Israel and intensive engagement between states with the Startup India team helped many states initiate effective measures to support startups," a DIPP statement said.
Best Performer:
Gujarat
Top Performers:
Karnataka, Kerala, Odisha, and Rajasthan
Leaders:
Andhra Pradesh, Bihar, Chhattisgarh, Madhya Pradesh, and Telangana
Aspiring Leaders:
Haryana, Himachal Pradesh, Jharkhand, Uttar Pradesh, and West Bengal