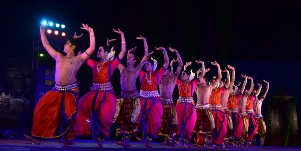 Bhubaneswar: Internationally famed event– Mukteswar Dance Festival — was inaugurated, here on Monday. The three-day Festival will be staged on the lap of Mukteswar, the 10th Century temple famous for its artistic grandeur
The Festival was declared open with Shiva Panchakhyara Strota rendered by the students of GKM Odissi Research Centre. The song is composed by GKMORC chief executive Sangita Gosain.
Swaroopa Sen's solo dance performance, She started with Parvathi Panchakam. In abhinaya she presented Ke kisa kahila takure …. . She concluded with an item based on Meera Bhajan.
Rajiv Bhatacharjee and Subikash Mukherjee presented a duet based on Bhagabat Gita,
The students of Nrutya Naivedya dance school presented Prata Smarami in Mangala Charana, Pallavi on raag Bakulabarana, Raas Bichitra based on the birth of Lord Ganesh. Raas Bichitra is about 9 raasa in classical dance. While Guru Prabhata Kumar Swain choreographed the dance piece based Raag Malika and taal Tamalika, Guru Sukanta Kumar Kundu, Guru Dhaneswar Swain have scored the music.
BJD legislator Priyadarshi Mishra, tourism secretary Vishal Dev, KCMORC chief executive Sangita Gosain, and the secretary of Odisha Sangeeta Natak Academy Bijaya Jena also graced the offcsion.