Bhubaneswar: It is a ping-pong game between the Centre and the state when it comes to deciding a place for setting up Odisha High Court bench in the state. For the last several years, the decision to set up permanent bench of the Odisha HC hangs in balance as the state is throwing the ball in to the court of Centre and the Centre returns it .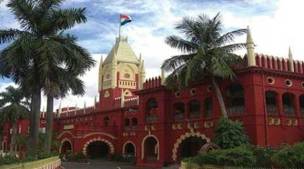 Interestingly, now the ball has been thrown into the court of the Odisha HC chief justice KS Jhaveri. The union minister for law and justice Ravi Shankar Prasad has advised the Odisha chief minister to decide the place for the HC benches in consultation with the HC chief justice.
The Sambalpur Bar Association has been on strike for several months demanding a bench in Sambalpur. Similar demands have been raised by the Bar Associations of Bolangirare, Rourkela, Berhampur, Rourkela for setting up of Odisha HC bench in their respective areas.
Amidst this situation, no political party is willing to take a risk in selecting a place for the bench. The Odisha chief minister, Naveen Patnaik, had recently shot off a letter to the union law and justice minister Ravi Shankar Prasad urging his to set up benches in the western and southern part of the state.
Replying to Naveen, Ravi Shankar Prasad has advised Odisha chief minister to consult with the chief justice of the Orissa HC regarding the proposed establishment of permanent benches of the HC in western and southern parts of the state.
"It is imperative that the chief justice of the HC is consulted and recommendations of Orissa HC obtained before setting up any Bench(es) of the HC in the state. The same process is followed in case of all other HC."
"It goes without saying that once the recommendations of the HC are obtained, the state government has to provide the requisite infrastructure immediately," Prasad added.
Once the state government along with the HC communicate their views, the Centre would take further necessary action in this matter, he concluded.