Bhubaneswar: Former union minister and veteran politician Srikanta Jena has joined the campaign for the Mahagathbandhan led by Samajwadi Party (SP) and Bahujan Samaj Party(BSP).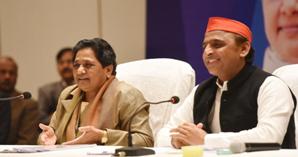 Jena, who was expelled from Congress just before the elections were announced following his difference with the Congress president Niranjan Pantaik on the issue of giving due weightage to OBC, Dalits and STs in the party, has been campaigning for the SP and BSP.
Jena is urging the Dalits, OBCs and the minorities to votes of the SP-BSP combines.
Asserting that BSP chief Mayavati is going to be the next prime minister of India, he ask the three communities to unit and vote for the SP-BSP candidates in the state.
"Washington Post has predicted that a woman is going to be the prime minister of India", he says adding and that woman would be no other than BSP chief Mayavati.
"No national party will get majority and any group that is going to form the government at the Centre would seek BJD's help', he quotes Odisha chief minister Naveen Patnaik and adds that there would be a government at the Centre led by Mayavati.
He also urges the SP-BSP workers and leaders to be prepared to take over the reign of Odisha as the tenure of the BJD government is coming to an end very soon.
The two Uttar Pradesh political parties have fielded candidates in several MP and MLA constituencies in the state particularly in the tribal districts. The BSP has over 4% votes in the state.