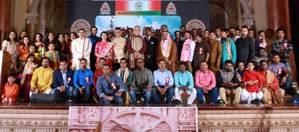 Manama(Bahrain): Odias living in Bahrain had celebrated the Odia New Year as well as Odisha Day by organising a colourful cultural show here at Isa Bin Salman Cultural Hall.
The Puri Gajapati Maharaj Dibya Singh Dev inaugurated the show along with former diplomat Lalit Mansingh. Labour and Social Development minister Ahmed Al Hikki, chairman of Dada Bhai Group Mohammed Dada Bhai, and ambassadors of India, Korea, Indonesia, Malasia, Sri Lanka and Nepal graced the occasion.
" The cultural event showcased Odisha's art, culture, culinary and glorious history of the state in eastern India, said Bahrain Odia Samaj founder Arun Praharaj.