Employees volunteer to make paper bags and utility items from waste material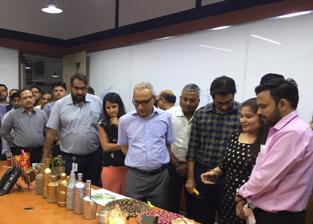 Sahibabad(Ghaziabad in UP): For a change, the hands that make steel prepared paper bags.
The employees of Tata Steel BSL, formerly known as Bhushan Steel Limited, tried their hands in making paper bags and other useful materials from old newspapers and waste materials. The occasion was to celebrate the Earth Day on April 22. And, the mission was to contribute its bit for a sustainable earth. The employees are of Tata Steel BSL's Sahibabad plant in Ghaziabad in Uttar Pradesh.
The paper bags, were distributed free of cost to the small shopkeepers near the plant along with posters to create awareness on not to use single-use plastic products. Besides the articles like – flower pots, table lamp, table top decorative items, etc- made from waste material by the employees were displayed in an exhibition in the plant premises and company's Delhi office in Ishwar Nagar. The exhibition in the plant was inaugurated by Uttar Pradesh Pollution Control Board ASO Sapna Shrivastava and Tata Steel BSL Sahibabad executive plant head Anoop K Trivedi. Tata Steel BSL chief finance officer Sanjib Nanda inaugurated the exhibition in the Delhi office.
Company spokesperson said that the exhibition collected Rs 50,000 towards sale proceeds of the items. About 145 employees who volunteered to make paper bags prepared a total 3800 bags which were distributed to small shopkeepers near the plant, he added.
Tata Steel BSL Limited is India's fifth largest flat steel producing company with an existing steel production capacity of 5.6 million tonnes per annum (mtpa) as on March 31, 2019. It has India's largest Cold Rolled Steel Plant and is one of the largest suppliers of automotive grade and high carbon special steel in the country. The organisation is spread across India with an employee base of over 5,600. On May 18, 2018, BSL was acquired by Tata Steel Limited through its wholly-owned subsidiary Bamnipal Steel Limited. Bhushan Steel was felicitated with several awards including Global Safety Award 2016 by Energy and Environment Foundation for outstanding achievement in implementing Prime Minister of India's Swachha Bharat Mission,