Bhubaneswar: Eminent classical dancers from across the country paid rich tribute through their dances to legendary danseuse Padmashree Sanjukta Panigrahi on her 75th birth anniversary, here on Saturday. To commemorate the 75th anniversary of the prima dona of Odissi dancer, Sanjukta & Raghunath Panigrahi Cultural Heritage Foundation in association with Odisha government and the Guru Kelu Charan Mohapatra Odissi Research Centre organised a dance show 'Tumari Smrutire…' by young and veteran dancers of the country.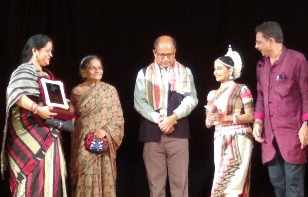 Kathak dance exponent Nandini Sinha from Kolkata, Odissi dancers Sanya Chadha from New Delhi, Angelina Avnee from Bangalore and Rina Jana from Kolkata presented scintillating performances. Mom Chatterjee and her troupe from Kolkata presented Mohiniyattam with perfection.
Sadhana Srivastav from New Delhi and Dr. Mrutunjaya Rath anchored the programme.
Rajya Sabha BJD MP Amar Patnaik graced the occasion as the chief guest.