Tongue in Cheeck
By Jugaad Journalist
Who gave the sword in the hand of Subash Chandra Bose?
This is the question which haunts many followers of the great freedom fighter.
Subash Bose was never seen with a sword. Or, at least, in available photographs of him, nowhere he has a sword either in his hand or strapped to his waist.
Then, how come Bose is wielding a sword in the stallion riding life-size statue in College Square, in front of Odisha's premier education institution, Ravenshaw College in Cuttack, which happens to be Netaji's birth place.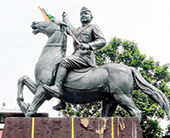 Bipra Charan Mohanty, an accomplished sculptor of the country whose 10th death anniversary is incidentally being observed today, in fact, had carved out this bronze figurine keeping in mind the photograph of Bose's thunderous call for 'Delhi Challo'. Bose, in the photograph, riding a horse is throwing his right hand to the air exhorting people to " March to Delhi".
Now a sword has come in his hand.
How it has come is a story to it.
Jugaad Journalist gathered information that the sword has been added to the statue by virtue of a Odisha high court order. One Kanhayalal Sharma, an enterprising and enthusiastic devotee of Bose went to court claiming that the sword is missing from the statue. The petitioner had said that though no authentic record was available, the sword had been missing for more than six years. And, based on the facts available before the court, it ordered for restoration of the sword.
It was on January 20, 2012, on the occasion of 115th Birth Anniversary of Netaji, the sword was added to the statue.
The principal of Khallikot Art College, Jayanta Kumar Das, who had assisted Mohanty in making the statue, recalls that sword was not part of the original sculpture. According to him, had it been the part of the statue, a sword scabbard would have been strapped to the waist. A close observation of the statue could reveal that the sword has been now forcefully added to the statute. When there was no sword in the original statute, there was no question of missing of the sword, he asserted.
The addition of sword to Netaji's statute is certainly a mis-representation of the original artistic creations.
Bipra Charan Mohanty must be turning in his grave.
jugaadjournalist@gmail.com