Bhubaneswar: XIMB's entrepreneurship cell X-SEED organized its annual business conclave 'Kickstart-2019, here on Saturday. The theme of the conclave was "Partage D' Experience".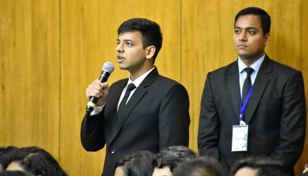 The speakers, Saurabh Dayal of Clear Dekho.Com founder Saurabh Dayal and Ustraa & Happily Unmarried founder Rajat Tuli, shared their startup stories and how they turned their failures into successes by believing in their ideas, their products and most importantly their core values. The session was moderated by Cini Mohanty.
The session was followed by an interactive question and answer section. Aakash Aggarwal, the student coordinator of X-seed delivered the vote of thanks to all the dignitaries and concluded the event.