Seventy year old Netrananda Lenka, a farmer of Patrapur near Jaypore in Koraput district has shown the way to others in the State.
Netrananda, a retired government employee, has taken up vermicompost making in a commercial way. He showed the local youth that vermicompost making need no rocket science knowledge and it is profit making business.
Lenka has 9 acres of land where in he grows rice, mango, pine apple, bamboo and manage a fully organised dairy farm. His major income, however, is from vermicompost.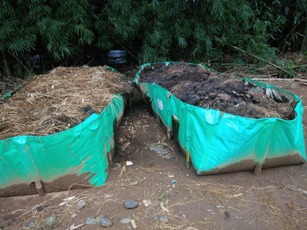 "There is such a huge demand for vermicompost( in several tonnes) that I am not able to supply", said Lenka.
Cow dung and cow urine are fed into bio-gas plants and slurry is pumped to the rice field. Solid Slurry is fed into Vermicompst tanks.
Lenka is famous for his black rice seed conservation. He, in fact, has conserved 200+ varieties of rice in his rice field including black rice which has the maximum demand ( Rs.100/-kg). He also train the local youth in organic farming.
Meanwhile, Agragamee, an NOG working in undivided Koraput district since early 1980s, has brought organic farmers to a platform. Kashipur tribal women have formed an organisation Maati Maara Santaana only to promote organic farming.
Agragamee founder Achyut Das said the State government should support the organic farmers taking a lesson from Sri Lanka.