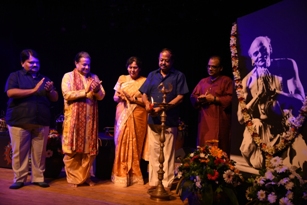 Bhubaneswar : The Silver Jubilee Guru Kelucharan Mohapatra Award Festival got off with internationally famed devotional singer Bhajan Samrat Anup Jalota presenting some of his highly acclaimed numbers, here on Thursday.
The seven-day festival of classical dance and music, organised by Srjan, will see several eminent performer of the country and abroad.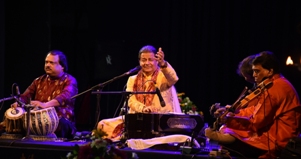 Anup Jalota, with his evergreen voice and captivating presence, set the tone by rendering an invocation. He dedicated the evening of music to the legendary Odissi Guru Shri Kelucharan Mohapatra and as a tribute to Guruji's immense contribution to the classical arts with Bhajans based on classical Raags. He started with the signature Bhajan Aisi Lagi Lagan, set to Raag Kirvani. Aisi Lagi Lagan was followed by Jag Mein Sundar Hain Do Naam set to Raag Gurjari Todi. Bringing in a strong classical touch to his evening's repertoire, the Bhajan Samrat was was ably accompanied by Koyel Tripathy on the Vocals, Rashid Khan on the Violin, Pradeep Ghosh on the Tabla, Himanshu Tiwari on Guitar. His recital highlighted his melodious yet powerful voice, with an incredible range, leaving the audience enthralled.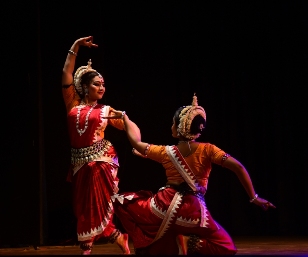 This befitting opening was followed by the Odissi dance group presentation of Gunjan Dance Academy, Cuttack led by renowned Odissi exponent Meera Das, a disciple of Guru Kelucharan Mohapatra. Gunjan presented two dance pieces, Moods of Rhythm and Dashavatar. In Taala Roopa, or the Moods of Rhythm, Gunjan presented a pure dance, exploring styles and patterns of the Odissi Mardala and creating many moods out of these, and celebrating the idea of romance through rhythm. Conceptualised and choreographed by Smt. Meera Das, the music and rhythm composition for this presentation is by Shri Dhaneswar Swain.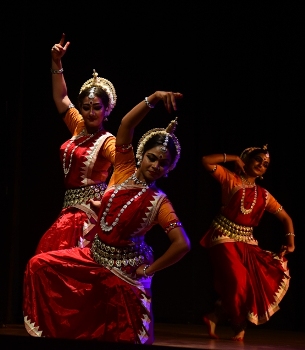 In their second presentation, Dashavatar, while the dance was originally choreographed by legendary maestro Guru Kelucharan Mohapatra, Meera Das adapted it to a group presentation while keeping the original composition intact. Dashavatar is an expressive dance depicting the ten avatars or incarnations of Lord Vishnu. Smt. Meera Das performed along with the group, and her group of dancers from Gunjan, trained under her able guidance depicted these ten incarnations with good footwork and commendable stage presence. This was an apt conclusion to the inaugural evening's performances.
The inaugural evening of the festival commenced with the auspicious lighting of the lamp by eminent dignitaries, Debi Prasad Mishra, MLA, Baramba, Anup Jalota, Bhajan Samrat; Praveena Kala, Chief General Manager, SBI, Pankaj Lochan Mohanty, Chairman, MGM Group and Ratikant Mohapatra, Director, Srjan. The programme was compared by Srinivas Ghatuari.
In the days to come, Srjan has curated the festival with a range of music recitals featuring world renowned artistes, with a special evening highlighting Odissi music. Furthermore, to honour and pay tribute to Guruji's lifelong passion of Odissi dance, all dance performances over this seven-day award festival are group presentations by established and well-known Odissi dance institutions of Odisha. The festival will also feature a special solo recital by Niharika Mohanty, senior disciple of Guru Kelucharan Mohapatra, Odissi exponent and founder-director of Guru Shradha, California, USA. On the concluding evening, Srjan's very own repertory will perform a special choreographic production, Namami Gange after the presentation of the coveted NALCO Guru Kelucharan Mohapatra Award and the NALCO Guru Kelucharan Mohapatra Yuva Prativa Samman.