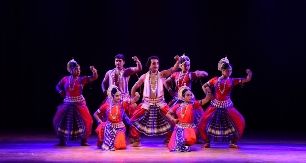 Bhubaneswar : The 25th OMC Guru Kelucharan Mohapatra Award Festival 2019 on fourth evening witnessed a spellbinding performance by Hindustani classical vocalist Indrani Mukherjee and power-packed presentations by Odissi exponent Gajendra Panda's troupe Tridhara and Cuttack-based Odissi dancer Jyotsna Rani Sahoo's Soor Mandir.
Indrani Mukherjee, an accomplished Hindustani Classical exponent of Banaras Gharana, mesmerised the audience with her vocal recitals. Accompanied by by creative and versatile Tabla player, Apurba Mukherjee, and harmonium player Gourab Chatterjee and Sachidananda Sahoo on the Tanpura, she opened the evening with three compositions. She presented a Khayal in Raag Kedar. Indrani rendered the Khayal in Vilambit Ek Taal, Madhyam Teen Taal followed by a Tarana. While the Vilambit and Tarana for this composition have been composed by Shri Bhaduri, the medium tempo in between has been composed by Pt. Ramashreya Jha. Celebrating the season of monsoon with beautiful lyrics describing the rains, this inaugural piece was an infectious rendition of musical harmony. Her second presentation was a Kajri in Raag Pilu. The rendition of 'Kehenva Mano Oh Radha Rani…' highlighted her exceptional musical sensibilities, leaving an indelible impression on the audience. The final presentation was a Bhajan in Raag Hemant. Beautifully interwoven with her individual creative expression, Indrani presented this Raag creating a deep and soothing atmosphere for the audience, a perfect conclusion to an evening of harmonious Hindustani music.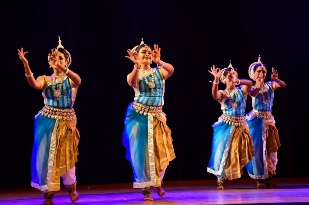 The classical vocal session was followed by Odissi group presentation Rasanuraga by Cuttack's Soor Mandir led by Jyotsna Rani Sahoo. As conceived and choreographed by Jyotsna Sahoo, and set to the music composition of Agnimitra Behera and the rhythm composition of Dhaneswar Swain, this dance portrayed the deep connection between rain and love and explored the various connotations between both. Set to Ragamalika and Talamalika, the dancers presented the group dance with all grace and grandeur.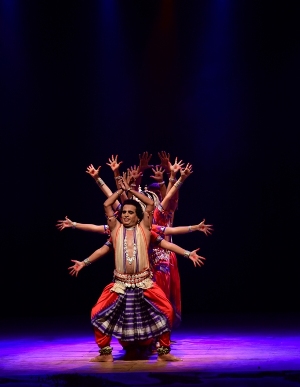 The fourth evening was concluded with a group performance by Tridhara led by noted Odissi exponent Gajendra Panda. Deftly choreographed by Panda, Tridhara presented Mangalacharan, Kirvani Pallavi and Ram Bhajan. Titled Lakshmi Nrusingha Dhyana, the Mangalacharan began with an invocation of Lord Gajanana, and then a prayer to Lakshmi Nrusingha, Lord Vishnu in his half man half lion form merged with Goddess Lakshmi on his lap. The verses for this presentation have been adapted from Prahalad Natak, the folk theatre of Ganjam district of Odisha. This Mangalacharan featured the hallmark Sabda Swara Pata, a key feature of the Guru Deba Prasad Das gharana, and was set to the music composition of Gopal Chandra Panda and rhythm composition of Dr. Banamali Moharana. This was followed by a pure dance or Pallavi, set to Raag Kirvani, music composed by Laxmikant Palit and rhythm by Dhaneswar Swain.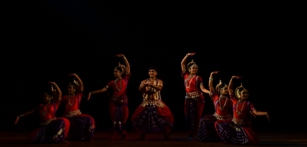 Tridhara's presentation concluded with a Ram Bhajan, drawn from Nagarakirtana tradition of South Odisha. With the music composition of Gopal Chandra Panda and the dance composition of Gajendra Panda, this Bhajan also propounded the narratives of Daskathia, popular folk form of Ganjam. The dancers of Tridhara displayed good energy and neat footwork throughout their performance.
Bharatiya Vidya Bhawan vice chariman S.K. Tamotia, eminent Odissi scholar Chitta Ranjan Malia and Srjan director Ratikanta Mohapatra graced the occasion.
In the upcoming days, this seven-day celebration will feature the Hindustani Sarod recital of Debasmita Bhattacharya, a special evening of Odissi Music by Bijay Kumar Jena, and Odissi group presentations by Bhubaneswar based institutions Nupur, Art Vision, Nrutyashala, and Nrutyayan.
The final day of the festival will feature the special Award ceremony for the presentation of the Nalco Guru Kelucharan Mohapatra Awards and Nalco Guru Kelucharan Mohapatra Yuva Prativa Samman, and the much awaited presentation Namami Gange by the Srjan ensemble, choreographed by Ratikant Mohapatra.