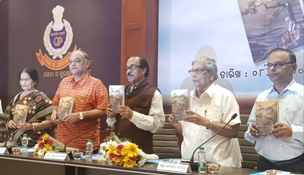 Bhubaneswar: Gyanpith award winner Odia writer Pratibha Ray's new novel, Praptesu Prtuthivi, was released, here at Police Bhawan on Sunday. The book has been published by Adya Prakashani of Pratibha Ray Foundation.
Prati bha Ray's Praptesu Pruthivi, a sequel to her novel Sesha Iswara, is based on socio-psychological impact of international terrorism on mankind. Ray had done an intensive research on the terrorism while she was in Canada for few months.
The book release ceremony, organised by Pratibha Ray Foundation, was graced by Padmabibhusana Sitakanta Mohapatra, and Samaj editor Bamapada Tripathy. Prof. Basant Kumar Panda presented a critical appreciation of the novel while Deba Prasad Das read out portions of the novel. Prafulla Kumar Mohanty presided over and Trust vice president Adyasha Das introduced the guests while Police ADG Lalit Das gave the vote of thanks.
Ray, who has over two dozens of novels and short story compilations to her credit, has been conferred with the Gnanpith Award for her novel Yajnaseni based on the trauma of Mahabharat's Draupadi. The book has been translated into several Indian languages. She has also been conferred with Moorthidevi Award for her literary creations.
Pratibha Ray is known as a popular writer as well as a high-brow author in the readers circle in the country.