Bhubaneswar: If the securiy forces in Kashmir are victims of stone pelting, the East Coast Railway too is facing such nuance in Odisha. The only difference is that Odisha stone pelters are not separatists. They indulge in this dangerous activities out of fun.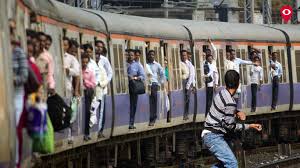 " It is found that in some cases, a few children and youth living near railway tracks sometimes indulge in stone pelting on the trains as a game or just for fun thereby endangering lives of so many passengers", said a ECoR spokesperson.
What is worrying the ECoR authorities is that the number of stone pelting is increasing in recent times.
The stone pelting incident has increased to 18 by August 2019 from 10 in 2018.
As per record 10 incidents occurred in 2018 calendar year that includes 6 in Bhubaneswar area, two in Cuttack area and two in Sambalpur Division. Similarly, in 2019, total 18 cases registered up to August where 4 cases in Jajpur-Keonjhar Road area, 3 each in Bhubaneswar and Visakhapatnam area and one each at Nergundi, Motari, Rambha, Solari, Balugaon, Ichhapuram, Koraput & Angul.
One person in 2018 and two in 2019 including one juvenile have already been arrested in this connection. East Coast Railway appeals to general public to help Railways by reporting such types of incidents by using toll free security helpline number 182.
" The Railway Protection Force( RPF) of East Coast Railway has identified the places in its jurisdiction from where stone pelting cases are being reported" said the spokesperson adding, "RPF strives to stop stone pelting on passing trains by deploying security personnel for track patrolling with special teams in plain clothes."
Apart from this, parents of the nearby areas are also being counselled regarding keeping their kids away from railway tracks.
The RPF has launched a month long awareness drive to educat the general public, especially those residing near railway tracks through Nukkad Natak, distribution brochures and hand Bill's.
RPF team led by Principal Chief Security Commissioner Raja Ram have devised a counselling plan involving young children and youth in the identified areas. In the first phase, there will be extensive counselling and the children would be dissuaded from engaging in such activities.
RPF is also distributing chocolates to the kids to sensitise them about the danger of Stone pelting on running trains and that this could injure their own family members or relatives also who could be travelling by such trains.
"Incidents of stone pelting can result in severe injuries. Many passengers have reported very severe injuries. Many cases of glasses of AC coaches getting damaged are reported", said the spokesperson. According to him," Not only national property but also lives are at stake. We will deal with this menace firmly and with sustained efforts."