Puri: Notwithstanding the request of the Punjab chief minister Amarinder Singh, the Puri district administration will go ahead with the demolition of the Mangu Mutt, popularly know as Punjabi Mutt, considered to be a holy link between the Hindus and the Sikhs, and also the Guru Nanak's connection with the Jagannath culture.
Mangu Mutt, established about 450 years ago on an area around 12,000 square feet near the Srimandir, bears religious significance for the Sikh community, as Sri Guru Nanak Dev had visited the holy temple several times to spread his universal message of the oneness of god.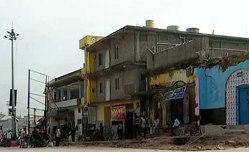 The Puri district administration, in fact, has convinced the Sikh delegation that the government is going to demolish the Mutt while preserving the heritage Gadi Ghar and Chamber of Mutt Mahanta.
Captain Amrinder has urged the Odisha chief minister Naveen Patnaik not to raze down Mangu Mutt as part of the demolition drive near Srimandir pointing out that the centuries-old mutt associated with highest spiritual leader of Sikhs, Guru Nanak Dev.
The district administration has already razed Languli, Emar and Bada Akhada mutts near Lord Jagannath Temple as part of its cleaning drive to make space for 75-mt heritage corridor around the Puri Jaganath Temple. The administration has already completed demarcation process for demolition of the Mangu mutt to make way for corridor surrounding the 'Meghanad Pacheri' of the Jagannath Temple.
The district collector Balwant Singh had an extensive discussion with the Sikh delegation team led by Jagdeep Singh, the legal cell chairman of Delhi Sikh Gurdwara Management Committee, here on Sunday.
Jagdeep Singh said, " The district collector has assured us that the main heritage site(gadi ghar, Mutt Mahanta's chamber) will not be affecte and only the encroachments would be removed.". He said that the team informed the district administrator that the Mangu Mutt also known as Punjabi mutt in Puri has close ties between the Sikh and Puri Jaganath culture.
Puri Collector Balwant Singh has said that the main deity of the mutt will not be disturbed and steps will be taken to ensure that religious process and rituals are conducted in a hassle-free manner.
Mahant of the mutt Bhawani Shankar Das Maharaj said, " I hope that the district administration will keep its promise".