Bhubaneswar: Xavier University Bhubaneswar (XUB) Wednesday launched a two-year full-time post-graduate program in urban management and governance under the school of Xavier School of Human Settlements (XAHS).
The new course was launched with lighting of lamp by XUB registrar Fr.E.A Augustine and Xavier School of Human Settlements dean Prof. Kajri Mishra . Prof. Mishra addressed the students on the journey of XAHS with a stimulating video and cited the integral contribution made by several other people and organizations. It was followed by the ceremonial releasing of the school brochure by Senior Fellow & Head Urban Studies, Institute of Social Sciences, New Delhi, Om Prakash Mathur.
Mathur, while delivering a keynote address, focused on developing and transferring knowledge about building sustainable, liveable and inclusive cities, and communities.
Former director of UN-Habitat Dinesh Mehta was the moderator for the panel discussion that followed. The other panelists were former secretary, urban development and former chairman, Fifth Delhi Finance Commission, Sudhir Krishna, Group Executive President and Business Head, New Ventures, Aditya Birla Group, Dev Bhattacharya, Chief Operating Officer Strategic Consulting, JLL India, Sri Lanka, Bangladesh & Nepal) Shankar Arumgham and Partner, Ernst & Young Shrinivas Kowlgi.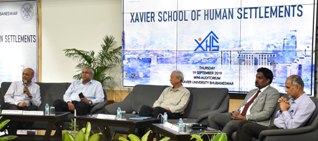 Mehta emphasized on increasing the interaction with people around them to understand how, with the increasing population, the challenges faced by people differ from one another. Krishna sensitized the need for amalgamating the bits and pieces from everywhere to build a place where every central and state government could have the ownership of managing the cities with a sustainable approach. Bhattacharya elaborated on how the current urban city management is damaging land, water and the overall quality of life and how one could work on it. Arumugham gave an overview of e-transportation and mobility concerning smart cities and enlightened the students about the increase in the number of start-ups in this field. He also advised them to always have the vision of being an entrepreneur. Kowligi, while talking about the course pattern, threw some light upon the importance of bridging the gap between theory and practice to ensure that a multidimensional skillset is possessed by the future managers.
Director town planning Suvendu stressed the need to be a decision-maker instead of being a follower and also advised on incorporating town planning as a mandatory course in the syllabus. Alumnus from the first batch (2016-18) of Xavier School of Human Settlements (XAHS), Assistant Manager, Bhubaneswar Smart Cities Pvt. Ltd., Siddi Dubey and Assistant Manager, Sanitation Management, Ernst and Young Sikil Mishar also attended the event.
XAHS students Tanaya Deshpande and Sarthak Sarangi were bestowed with a certificate of appreciation for designing the logo for the school by Independent Management Consultant Durga Prasad Duvuri. The launch concluded with a vote of thanks by Prof. Tathagatha Chaterjee.