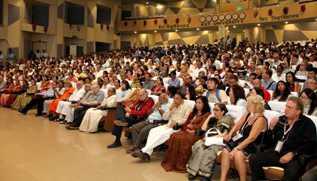 Bhubaneswar: The Odisha chief minister, Naveen Patnaik, Wednesday inaugurated the 39th World Congress of Poets(WCP), organised here in the KIIT premises.
Speaking on the occasion, Patnaik said, "We are celebrating the 150th birth anniversary of Mahatma Gandhi, the epitome of peace and non-violence. As the world congress of poets is all about promotion of poetry as a natural and vital network connecting poets to the world's need for cooperation and peace, for us here creativity coupled with peace and non-violence is taking new strides. Odisha is a land of cultural pluralism having a rich and enviable tradition of poetry."
Quoting the lines from the legendary poet of Odisha Bhima Bhoi, he said that the immortal lines – 'Mo jeebana pachhe narke padithau, jagata uddhar heu' (Let my soul be subjected to sufferings in the hell, but the world be resurrected) is now illuminating and igniting million minds in UN Headquarters.
The director general of Indian Council for Cultural Relations Akhilesh Mishra said, "Poetry is the way to develop mutual understanding. Indian literature and poetry is very ancient. We can develop universal brotherhood and peace through poetry. Our Rigveda is the ancient poetry of the world."
Ernesto Kahan, the first vice president of World Academy of Arts and Culture said, "WCP is increasing by the day in terms of quality and quantity. Its main motto is world brotherhood and peace through poetry. We can bring change in the world through poetry.
The WCP president Maurus Young said. "I have seen many WCP, but this World Congress is unique and marvellous. I thank Achyuta Samanta for organising this 39th World Congress of Poets."
The founder of KIIT, Achyuta Samanta, who is also the president of 39th WCP, and general secretary, World Academy of Arts and Culture María Eugenia Soberanis also spoke.