Cuttack: The Cuttack-based National Rice Research Institute(NRRI) has come out with three new varieties of high yielding paddy keeping in view the climate change effect. The new varieties are 'Santh Bheema'(CI Paddy -102), 'Sarumina'(CI Paddy-210) and Mahamani(CI Paddy-410).
The NRRI chief scientist, Sarat Kumar Pradhan, said that one of the three varieties has been named after Odisha's legendary poet Santh Bheema Bhoi. He said like Bheema Bhoi, who became a great poet even if born in a poor family, the 'Santh Bheema' (CI Paddy102) will give high yield in drought prone, less fertile land.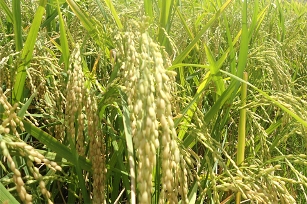 Pradhan said the drought resistant and high yielding variety could be harvested within a short period of 110 days. The specialty of this variety is that it's yield would not be affected if there would be no rain for 20 days at the time of flowering and carrying period. According to him, the production would be more than 70 quintal per hectare under normal condition and not less than 30 quintal under drought condition. The variety has pest resistance power too, he added.
The NRRI chief scientist said that the variety could be used by the farmers of districts like Kalahandi, Phulbani, Boudh, Angul, Dhenkanal and Malkangiri which receive scanty rainfall.
Sarumina variety is suitable for both irrigated and non-irrigated land as it could be cultivated with less water. Usually, 1 kg paddy requires about 5000 liters of water. But, Sarumina variety requires 3000 to 3500 liters of water. Farmers can save about 30 to 35% of water which they could use for other purposes. The long, fine grain variety of paddy takes 115 days for harvest. Under normal condition the yield would be 60 quintal per hectare.
Mahamani has been developed for low laying farm land of coastal districts. The 140 height paddy variety takes 160-165 days for harvest. This variety gives super fine rice like Balami. The variety is pest resistant.
The NRRI is now producing seeds of these three varieties after laboratory testing for three years. In the next season, farm demonstrations would be carried out, said the chief scientist Pradhan.
The NRRI has developed 139 varieties of paddy including this three new ones.