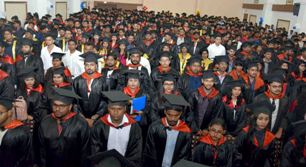 Bhubaneswar: The SOA Deemed to be University handed over degree certificates to its 735 B.Tech and M.Tech (dual degree) passed out students on the Graduation Day of the Institute of Technical Education and Research (ITER), faculty of engineering and technology, here on Saturday. The students were of 2018 and 2019 batches.
Speaking on the occasion the university vice chancellor Amit Banerjee said SOA now looks up to its alumni be its international ambassadors. "You have a huge responsibility as the university's alumni and should continue to keep its flag flying," he said.
Pointing out that SOA had figured in the Times Higher Education and QS rankings this year, he said that SOA had left its footprint in the international arena.
"Rankings are given on the basis of perception in the academic and social realms," he said adding SOA now had several hundred international students from different countries including Syria, Nigeria, Uganda, Ethiopia and Nepal.
"You must join hands and contribute to the process of nation building," Prof. Banerjee said.
The chairman of SOA advisory board, Prof. Damodar Acharya, asked the graduating students not to follow anybody but chart their own course by dint of hard work. "You must work hard and achieve your own goal," he said adding even if they failed, they should take it as a challenge and look forward.
Prof. P.K.Nanda, SOA's Dean (Research and Development), Prof. Srikant Patnaik, Director, International Relations and Prof. Jyoti Ranjan Das, Dean (Students' Welfare) also spoke.