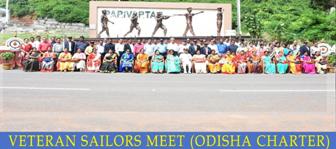 Chilka (Odisha) : As a prelude to the Navy Day Celebration 2019, a reunion function of Naval veteran sailors and their families was organized at Indian Navy Sailor's Basic Training Establishment "lNS chilka, here on Sunday.
Hundreds of veteran Naval sailors and their spouses participated in the reunion. The veteran Sailors became emotiol and nostalgic at the reminiscent of their Basic Training periods and sharing those unforgettable moments of training time with their spouses and service officers, sailors and their colleagues.
Commodore Ruturaj Sahoo, the commanding officer, INS chilka and Naval officer-in-charge (Odisha) welcomed the veterans to the Alma-mater and apprised and interacted with them while walking around the establishment and cultural programmes organised by the under-trainees. Everybody starting from under-trainees to serving officers to the veterans, were excited and elated by participating in one of its own kind reunion organized under the aegis of the commanding Officer, INS chilka with the support and encouragement from Veterans Sailors Club of Odisha.
The commanding officer has informed all out the upcoming events being conducted to celebrate the Navy Day and requested the veterans to participate in the events to make the celebration a grand success. The cultural programme staged by the under-trainees were very heartwarming emotional and sentimental, especially the play depicting the daily routine of an under-trainee Naval Sailor was very hilarious and nostalgic.
The president of Veteran Club, Bidyadhar Nayak, encouraged the under-trainees to excel in their respective fields in order to keep the lndian Naval Ensign flying high. He expressed his heartfelt gratitude Commodore Ruturaj Sahoo, Commanding Officer, INS chilka along with Surgeon Captain Joydeep Choudhury, Commanding Officer, INHS Nivarini, Commander Trilochan Rout, Executive Officer, INS Chilka, and Sangeeta Sahu, president, Naval Wives' Welfare Association, INS Chilka
At the end the president Veterans Club the Naval officer in-charge, Orissa, exchanged mementos to make the event ever cherished and reminiscent.