Bhubaneswar: AMRI Hospitals,Bhubaneswar, is emerging as a leading kidney transplant centre in the country. The kidney transplant team at Bhubaneswar AMRI Hospital has achieved the distinction of completing more than 125 kidney transplantions in last six years.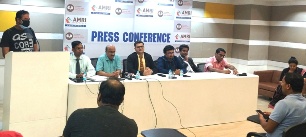 The Kidney Transplant facility commenced at AMRI Hospitals Bhubaneswar under the supervision of Dr. Subodh Das, Transplant Surgeon and Dr. Sukanto Das, Nephrologist in the year 2014 after due clearance from the DMET , Govt. Of Odisha. To further enhance the team structure and quality of the clinical outcomes, Dr. Manas Ranjan Pradhan, Senior Consultant, Urology and Renal Transplant and Dr. Sai Prasad Sahoo, Consultant, Nephrology have joined the Institute of Renal Sciences at AMRI Hospitals. The new team has got significant expertise and experience in paediatric kidney transplant and ABO incompatible kidney transplantation with very good success rate.
AMRI Hospitals boasts of an advanced kidney transplant ICU and state of art operation theatres providing the latest treatment facilities. The hospital has also successfully conducted "SwapTransplant" multiple times for patients having difficulty to find donors in the family. Transplant has also successfully been done in many complicated cases, where donors have multiple blood vessels & ureters, etc. Many patients who had undergone transplant in other places and eventually developed rejection, have also undergone successful 2nd kidney transplant at AMRI Hospitals, Bhubaneswar. Patients from neighbouring states have also undergone transplant at AMRI Hospitals. Furthermore, the State government's initiative to extend financial assistance to transplant patients who are unable to afford the cost of treatment is a true gift for the underprivileged people of Odisha. AMRI Hospitals has also come forward to support the government's attempt to bring a fresh lease of life to the people suffering from kidney ailments.

"AMRI Hospitals has a well organized, comprehensive kidney transplant institute that has a team who have vast expertise in different fields of transplantation. We are one of the only few centres in the region which has always been strictly adhering to the government norms and regulations" said Dr. Anuj Tiwari, vice president & unit head, AMRI Hospitals Bhubaneswar. Adding to the expertise, "We have a research lab in our transplant program that works for patient's follow-up and post operation care of a transplant patient. AMRI Hospitals is one of the leading transplant centres in the eastern India", mentioned Dr. Subodh Das, director transplant and the renal sciences and Dr. Sukanto Kishore Das, senior consultant, nephrology. Dr. Subodh Das has performed the maximum number of kidney transplants in Odisha.
Dr. Manas Pradhan, senior consultant, urology & renal transplant and Dr. Sai Prasad Sahoo, senior consultant, nephrology said, "Most of our patients with incompatible donors are getting the desired match and transplant is done in less than three months with paired donor exchange facility. Also ABO incompatible kidney transplant is possible where by kidney transplant can be possible between two persons of any blood group. "
AMRI providing high-end tertiary care facilities to the people of Odisha and international patients as well; with its highly efficient doctors and state-of-the art diagnostic and dialysis unit with the support of NABL accredited laboratory.