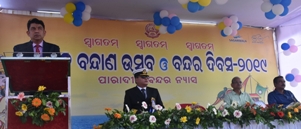 Bhubaneswar: Paradip Port aspires to become the top port in India, said the Port chairman Rinkesh Roy.
Addressing on the occasion of Port Day, here on Tuesday, Roy said after achieving 100 million tonne cargo handling capacity, the Port is now following a transformational agenda with the advance technology adoption for its future growth.
Roy attended the function as chief guest and unfurled the Paradip Port flag at Wet Basin in the morning. He performed the traditional Kalas Puja and handed over the sacred Kalas to the Sadhavas who set sail on board a traditionally decorated boat. He also inspected the Port Marine crafts lined up in the Harbour and took salute.
Paradip Port deputy conservator, capt. A.K. Mohapatra, CME Saroj Das and Dr.P. Panda were present.
Outlining the tremendous rise of the Port in recent decades, Roy said the Port begining operations in 1966 achieved a annual cargo handling capacity of 10 MMT in 1995, which further rose to 50 MMT in 2010 and in FY 2017-18, it crossed the coveted 100 MMT mark.
He said in the last few years, 90 MMT capacity addition has been done. A capacity addition project of Rs. 4,500 Cr. is nearing completion, he added.
For their dedicated service in their respective fields and their attachments to the Port, Kulamani Barik, conch player, Anand Chandra Sethi, garden supervisor, Sukanti Lenka, for her service to differently abled chidren, Binapani Das, safai karamchari at PPT Hospital, Smrutikant Sharma, dance teacher were felicitated on the occasion.