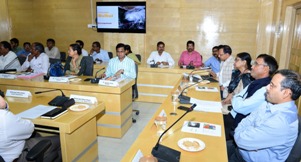 Bhubaneswar: The Central team has found that the Cyclone Bulbul has wreaked havoc in four coastal districts of the State. Standing paddy crop has been damaged in the cyclone.
The 7-member Central team headed by home ministry joint secretary Saheli Ghosh Roy split into two groups and visited Bhadrak, Balasore, Jagatsinghpur and Kendrapada district on Thursday and Friday to assess the damages caused by the Cyclone Bulbul. After returning from the field visits, the team had a meeting with the Odisha chief secretary Asit Tripathy, special relief commissioner PK Jena and other top officials of the State government, here on Friday.
" We saw that the cyclone has caused lot of damages to the paddy crop. The infrastructures, particularly the electric transmission lines, have been damaged," said shaeli Ghose Roy.
"We would recommend to the Centre", she said adding that the State government's memorandum for Central assistance would be awaited.
Roy praised the Odisha government stating " Relief and restoration works in the affected area are praiseworthy. She noted that communication was restored by removing 212 road blockades in 24 hours of the cyclone. By now power supply to 15 lakh affected consumers has been restored. And, water supply remained uninterrupted in the aftermath of the cyclone, she said.
The visiting team head said that by giving advance warning brought to shore 19635 fishing boats along with the fishermen. The State government provided shelter to 43 boats and 381 fishermen of West Bengal who were caught in the storm, she added.
Roy said this could be possible because of advance preparedness and mock drills.
SRC Jena said that the team found that cyclone has affected the agriculture sector very badly. The team realised that Bhadrak is the worst affected district in the State, he added.
Jena said that the State government's memorandum for Central assistance would be submitted by the end of next week. The revenue and the agriculture department are jointly assessing the damages. Once the report is received, memorandum would be prepared for the submission to the Centre, he said.
The SRC said that the State government would make an appeal to relax the compensation norms to the Centre.
Giving details of the preliminary assessment, he said about 37.49 lakh people of 50 blocks and 12 urban centers were affected by the Cyclone Bulbul. Standing crop on 2.3 lakh hectares of land has damaged.
The seven member Central team was consisting of union power ministry chief engineer Vandana Singhal, rural development department deputy secretary S.S.Modi, Central Water Commission superintendent engineer Amrish Pal Singh, agriculture director Birendra Singh, road and transport Sunil Kumar and adviser Deena Nath.
Odisha development commissioner Suresh Mohapatra, agriculture principal secretary Sourav Garg, finance principal secretary Ashok Meena and revenue principal secretary Nikunja Bihari Dhal were present along with the chief secretary and SRC in the meeting with the visiting team.