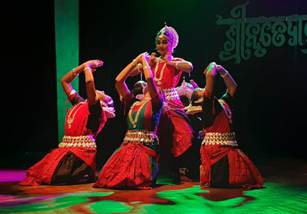 Bhubaneswar: Shree Nrutyotsaba 2019, organised by city based Shree Dance Academy at Bhanja Kala Mandap, got off, here on Saturday.
The culture director Bijaya Nayak inaugurated the two day dance festival curated by eminent dance guru Minati Ray who is also the secretary of Shree Dance Academy. Odissi dance exponents Snehaprava Samantray and Minakhi Behera, and Odisha Sangeeta Natak Academy secretary Bijaya Kumar Jena graced the inaugural ceremony. 'Shreemayi', the souvenir of Shree Dance Academy was released on this occasion.
The evening opened with a mesmerising presentation by Shree Dance Academy. The dancers of the Academy presented "Rudrastakam', choreographed by dance guru Minati Ray.
Guru Durga Charan Ranbir presented Yahi Madaba and Bipanchi Das abhinaya 'Shyama Sama Kamaniya….' much to the taste of the Odissi connoisseurs. Mamata Satapathy and Biswabhusan Champatiray presented Devi Bandana in a duet and Guru Jyostnarani Sahoo's troupe presented a group dance Rasanuraga keeping the audience glued to their chairs.
The opening evening show ended with Shree Dance Academy presenting a group dance- Mokhya .
Shree Dance Academy president Prafulla Kumar Patnaik and secretary Namita Ray managed the stage while Mrutunjaya Rath compared the programme.