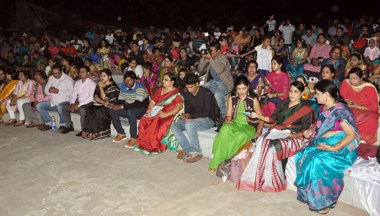 Bhubaneswar: PECUC sisumela has reached in its third day. The stage of the Amphitheatre of Ekamrahat vibrated with the dancing steps of the little stars and the enthralled audience recognized it with their loud applause & praise as this was the day of Modern Dance Competition. The judges for the today's competition were Rekha Sahoo, Sanjay Suman and Surjyanarayan .
The guests of the evening were Dibya Saswati, member, OSCPCR, Sulata Deo, adviser of Women and Child Development department, Maya Swain, chairperson, Lion Club, Nirmal Behera, social worker. They appreciated the effort of PECUC for providing a platform for the children to exhibit their inner talent without any fear, anxiety and discrimination. Prize was distributed to the winners of Rhymes Compitition.
Ranjan Kumar Mohanty, secretary PECUC, Anuradha Mohanty, executive director, PECUC were present on this occassion. Ratna Dash, Sushri Shailani Suman, Prashant Kumar Mallick, Upama Mohanty, and Panu Behera of PECUC conducted the programme. Cultural troup of different dance groups like Lakhya Dance Group, Sunrise Public School and Srimayee performed on this occasion.