Bhubaneswar: The first ever Mission Shakti Mela, organised by State Women and Child Development and Mission Shakti department, recorded huge success with doing a business of over Rs 6 crore.
The 11-day Mela, which started on December 5, was concluded on Monday.
The Mela had 202 stalls for display and sale of various handloom, handicraft, non-timber forest produce (NTFP), food items, spices and non-farm products. Besides, 12 stalls in the "Food Court' were also managed by women Self Help Groups and women entrepreneurs.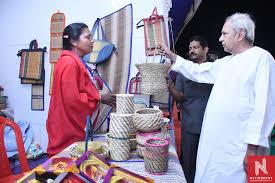 "During this exhibition-cum-sale, women SHG products worth Rs 6.055 crore have been sold," said W&CD minister Tukuni Sahu. According to her
Mission Shakti Mela is a unique initiative by the government to extend a platform to the women SHGs and Producer Groups (PGs) to display and sell a wide range of products. This will not only help urban consumers gain knowledge and access to diverse and unique SHG products at Bhubaneswar, but also enable rural and urban women producers to showcase their products, develop market linkages and further refine their
products according to current consumer preferences.
The Mela had a huge foot fall during the 11 day. Chief minister Naveen Patnaik also shopped in the Mela. He bought a hand-crafted Sabai bag and a wooden jewellery box made by women SHGs.
Chief secretary Asit Kumar Tripathy, development commissioner Suresh Chandra Mahapatra, Kendrapada MP Anubhav Mohanty visited the Mela on different days.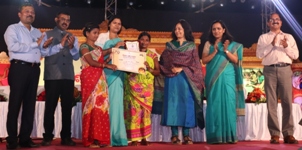 Speaking at the valedictory function, the minister Tukuni Sahu announced that the Directorate of Mission Shakti and Flipkart, a leading e-commerce platform in India have joined hands to promote online sale of Women SHG products. She also said that an exclusive Mission Shakti e-commerce portal has been developed with the Tata Trust for online sale of women SHGs' produces. Mission Shakti is also partnering with ORMAS to strengthen 300 women Producer Groups across the state thereby ensuring socio-economic empowerment of women SHGs.
Promoting aggregate marketing of SHG products by establishment of a physical distribution network, Mission Shakti Bazaar at Gandamunda, Bhubaneswar with 64 retail outlets is being built to make SHG products available round the year for the urban population.
Maa Durga Mahila SHGs Bolangir block, Suravi Mahila Mandal, Kendrapada block, Maa Angigangama Jhadu Utpadak Gosthi, Rayagada block, Satya Sai Mahila SHG, Rayagada block, Maa Dugra Mahila SHG, Kendrapada, Maa Saraswati Mahila Utpadaka Gosthi, Thuamul Rampur block, Maa Shaktirupa Mahila SHG, Loisingha block, Radhakrushna Mahila SHG, Chattrapur, Maa Durga Mahila SHG, Churahundi block in Nabarangpur district, Maa Banadevi Mahila SHG, Kabi Surya Nagar, Asha Mahakuda, Om Shanti Mahila SHG, Chhatrapur block were felicitated on the occasion of the the valedictory function. The function was graced by Dr. Lopamudra Baxipatra, advisor, Mission Shakti, Sujata R Karthikeyan, director of Mission Shakti and Smruti Ranjan Pradhan, CEO,ORMAS.