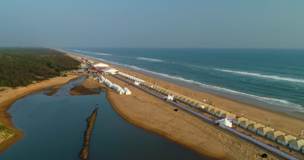 Bhubaneswar: The Marine Drive Eco Retreat, a unique initiative by Odisha Tourism, now boasts of Beach Shacks with a vibrant ambiance and delectable food accompanied by a wide range of beverages with a beach view that makes the most sought-after getaways pale in comparison. This is also the first time that beach shacks have been set up in Odisha.
The place offers a perfect getaway for tourists as well as locals, and the golden sands and the sound of the turquoise waves promise visitors quality time to rejuvenate.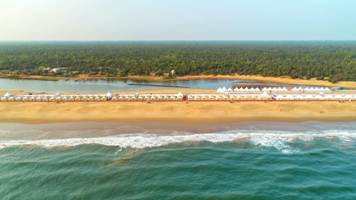 The beach shacks are open all day at the Marine Drive Eco Retreat in Konark till 31 January 2020.
Moreover, the crowd will be treated to cultural performances and a light and sound show at 6 pm every day.
Vishal K. Dev, IAS, Commissioner-cum-Secretary, Odisha Tourism and Odisha Sports said: "Beach shacks are very popular not just among youths but also among families and we wanted to give not just the in-house guests but everyone a chance to come and soak in the ambience of the sea and Marine Drive Eco Retreat. With Christmas and New Year just around the corner, this is a perfect place to be at."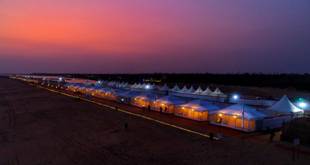 About Marine Drive Eco Retreat:
Scheduled from 14 December 2019 to 31 January 2020, the Eco Retreat promises to be a unique experience of Glamourous Camping in 50 luxury cottages, delectable cuisine, beach spa, adventure & water sports activities, nature trails and wholesome day itineraries, cultural evenings, and a lot more.
The Marine Drive Eco Retreat has been developed as an environmentally sustainable model incorporating best practices in material utilisation, zero liquid and sewerage discharge and holistic waste management.
Apart from the exclusive facilities, the Eco Retreat comprises a food festival, a beach market, and an events venue for mega evenings – all of which, besides thrilling water sports, will be accessible to day visitors at affordable entry prices.
What to expect at the Marine Drive Eco Retreat:
GLAMPING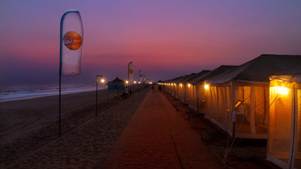 Stay in the middle of nature's bounty in a luxury cottage with the ambience and hospitality of a five star hotel. The concept of GLAMPING i.e. Glamorous Camping has caught on with not only the current generation but also people of different age groups.
At the Marine Drive Eco Retreat you can experience a unique luxurious accommodation offering rich thematic ambience, a dedicated dining area and multiple options of staying at the Luxury Cottages replete with facilities like air-conditioner, television, sofa sets, as per your requirement.
ADVENTURE SPORTS
Odisha is already known as the 'Sports Capital of India' and with a 480 km coastline to boast of, it has started focusing on adventure sports as well. And who doesn't love an adrenaline rush especially when it's by the water. With activities like jet-ski, Speed boating, parasailing, ATV, archery, rifle shooting, bicycles, beach volleyball, Zorbing, water roller among others on the charts, the Eco Retreat promises to be a thrilling experience.
WELLNESS
While the Ramachandi sandbar itself makes for a therapeutic walk, the exclusive spa by the sea for guests offers the ultimate detox. The itinerary includes early morning nature trails in the Balukhand Sanctuary which are the best way to resettle you to your instinctive and natural best. One can chase the calm with the competitive zest of beach volleyball.
CULTURE MIXTAPE
While niche talents and folk artistes from across Odisha and India will exhibit their talents every evening, the weekends promise to resonate with the best of rock, Indie pop, folk genres, Celebrity DJs and the Bollywood's known voices take the stage and make you groove.
The who's who set to take the stage are Indian Ocean, Harshdeep Kaur, Mame Khan, Benny Dayal, Papon, Divya Kumar, Salim Suleiman and Krishna Beuraa.
See the full artist line-up below. Shows start at 6 pm.
21 Dec 2019 INDIAN OCEAN
25 Dec 2019 HARSHDEEP KAUR
30 Dec 2019 MAME KHAN
04 Jan 2020 BENNY DAYAL
11 Jan 2020 PAPON
18 Jan 2020 DIVYA KUMAR
23 Jan 2020 SALIM SULEIMAN
31 Jan 2020 KRISHNA BEURAA
Bus Transport to and from the Eco Retreat @Rs. 100/- per person will be available on event days on first-cum-first-serve basis from: