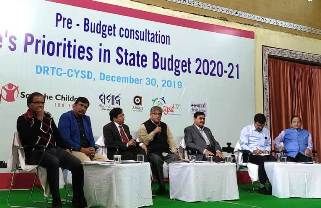 Bhubaneswar: Health, education and agriculture are the key sectors to be focused in the upcoming budget 2020-21. The key Sustainable Development indicators in the areas of health, education, food and nutrition, water and sanitation, agriculture, social security etc. are need to be focused in formulation of the state budget 2020-21 said the experts in a pre-budget consultation organised by Centre for Youth and Social Development (CYSD), a state based CSO.
Odisha Budget and Accountability Centre (OBAC), CYSD reached over 4000 rural people with an aim to understand the people's need and aspirations in the State budget 2020-21. The current wage rate is a major demotivating factor for people to work under MGNREGA. Considering the market rate of essential goods minimum wage rate should be hiked to Rs 300 as demanded by the people. Among many, mandi facilities in every gram panchayat for procurement of agriculture products, community seed banks for promotion of traditional seeds, cold storage facilities at GP level to store predicable vegetables, rejuvenation of spot water sources and traditional water bodies, raising unit price in hot cooked food under supplementary nutrition program which currently stands at Rs 6.76 are the key demands raised by the people.
The commitment of 2.5 percent of GSDP by 2025 and 8 percent of State Budget by 2020 is on its half way (1.26 % of GDP and 4.9% of State Budget) needs substantial scaling up in public spending. The increase in budget allocation should take care of the infrastructure and facilities requirement of primary health care which includes health sub-centres, primary health centres and community health centres. The state may focus to bring village health maps to address the health needs effectively. With a target of five years, all the houses are covered with toiletsin the state as declared by the Department of Drinking Water and Sanitation, Government of India.Now we need to think of faecal sludge management in rural areas.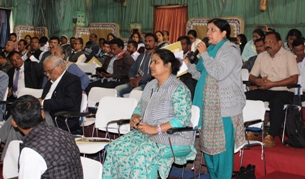 After a decade of implementation, we have not been able to achieve all schools RTE compliance, particularly in addressing the quality education for all. A state level technical committee may be formed with proper resource support to assess the current situation and prepare a strategic road map to implement the provisions in the new education policy.In the current ICDS structure, the Anganwadi centre is more inclined towards delivery of SNP with a little focus on pre-school education. A qualified person may be appointed for undertaking pre-school education activities.
The Comprehensive State Nutrition Mission needs to address the emerging issues in health, food and nutrition in the state. The Mission should target at identifying the vulnerable nutrition sensitive hotspots in the state and may design specific schemes and programs to address the issues in those pockets.Social audit has been experienced as one of the effective tools for ensuring quality execution of programmes. Thus, social audit may be encouraged to promote people's participation and ownership in implementation and management of all the programmes and schemes.
"Infrastructure growth is connected with economic growth, utilization of assets is necessary too" said Jugal Kishore Mohapatra, former chief secretary of Odisha. The all-round development approach may be compacted with different schemes and programmes on nutrition, health and education, he added.
State health and family welfare special secretary Dr. Hara Prasad Pattanaik, former State Finance Commissioner R. N. Senapati, special secretary finance P.K. Biswal, eminent financial journalist Dilip Bisoi, joint secretary finance SatyapriyaRath, and CYSD co-founder and mentor Jagadananda were on the panel.