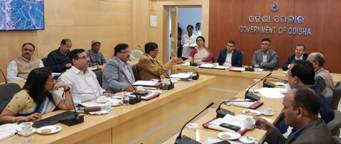 Bhubaneswar: Odisha's forest management has become a national model.
Revealing this, the State chief secretary Asit Tripathy said that the forests cover has increased by 274 sq.km in last two years as per India State of Forest Report (ISFR). He said that the investment of Compensatory Afforestation Management and Planning Authority (CAMPA) Fund has started giving dividends.
The State level steering committee Authority of CAMPA, which met under the chairmanship of chief secretary, here on Tuesday, approved the annual action plan of Rs 803.65 crore for the fiscal 2020-21.
The CEO, CAMPA, Uma Nanduri and PCCF Sandip Tripathy appraised the meeting about the status of forest in the State. According to them 55,534.40 Hectares of forest areahas been diverted for non- forest use in the State so far.
Development commissioner Suresh Mohapatrà, revenue additional chief secretary Pradipta Mohapatra, forest and environment additional chief secretary Mona Sharma, finance principal secretary Ashok Meena were present .