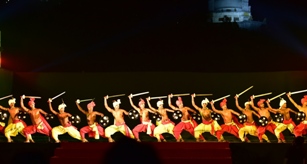 Bhubaneswar – It was the concluding day at the 16th Dhauli Kalinga Mahotsav presented by Department of Tourism, Government of Odisha and organised by Orissa Dance Academy & Art Vision, Bhubaneswar. Reverberating the gospel of peace and rejuvenating the nuances of Indian classical, martial and contemporary dances the valedictory evening was really a splendid one leaving the connoisseurs mesmerized.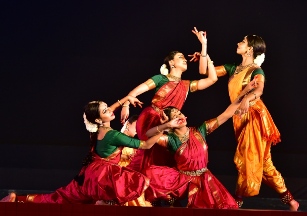 This year His Excellency Governor of Odisha presented Ruchi Buddha Samman Award to Mayadhar Rout, renowned Odissi Guru for his lifetime contribution in the field of Odissi and Guru Gangadhar Pradhan Smruti Samman Award to Guru Ghanashyam Panda, renowned Odissi Vocalist; Smt. Aloka Kanungo, Eminent Odissi Danseuse; Dr. Devi Mishra, renowned Doctor of International Medicine and Chest Diseases in USA; Shri Niranjan Tripathy & Smt. Swati Tripathy, Promoter of Odissi dance in USA and Shri Jayadev Das, noted Light Designer.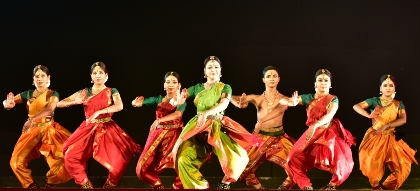 The programme started with Mardala Badana by Guru Satchidananda Das & Group (Mardeli, Bhubaneswar). His effortless execution of melodious strokes in Mardala was enchanted the audience.
Second programme of the evening was Bharatnatyam dance by Rama Vaidyanathan (Ganesa Natyalaya, New Delhi). Their first presentation was Bodhana is a invocatory composition written by Maanikka Vaachakar and music composition by Sudha Raghuraman followed by Bhayili Piya is a hindi bhajan where a nayika spends a whole night expressing her love for Lord Krishna. Their last presentation was Bindu is only when the two forces integrate that the sacred point of creation. When both Siva and Shakti engage in intimacy, it is like the sun and the moon uniting.
Concluding item of the concluding evening was Mayurbhanj Chhau by Bibhudatta Das & Group (Maa Vairabi Chhau Nrutya Pratisthan, Mayurbhanj) presented War Dance popularly known as Ruk Maar was conceptualized in the early year of evolution of Mayurbhanj Chhau. This dance was performed during Republic Day celebration at Rashtrapati Bhawan followed by Khatriya Bandhu is the war techniques of the Khatriya community. The martial techniques and use of props in the dance is spellbound the audiences till the end.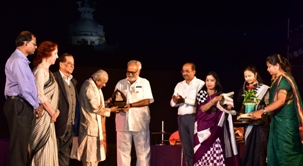 The Guests of the evening were Prof. Ganeshi Lal, His Excellency The Governor of Odisha; Shri Sachin Ramachandra Jadhav, Director Tourism; Guru Aruna Mohanty, Secretary, Orissa Dance Academy and Guru Ileana Citaristi, Secretary, Art Vision. The programme was compered by Dr. Mrutunjaya Rath and Itishree Devi.