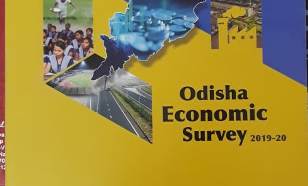 Bbhubaneswar: Odisha's per capita income has crossed the Rs 1 lakh crore in 2019-20 (AE) as it reached Rs 1.01,587 up from Rs 95,164 in 2018-19.
According to the Odisha Economic Survey 2019-20, which was tabled in the Odisha Assembly on Monday, the State's per capita net domestic product at current price is estimated to grow at 6.75% as per the advance estimate for the year 2019-20. During the same period, the per capita net national income is estimated as 1,35,050 making an increase of 6.84% as compared to Rs 1,26,406 during 2018-19.
Per capita income, which measures the standard of living of a State, is increasing over the years reflecting rise in income of the State. But, the growth witnesses fluctuating trend in recent past years at it reached the highest level with 19.6% growth in 2016-17 from 2.26% in 2015-16. It again leaped to 12.63% in 2018-19 after a decline in 2017-18 with 9.4%. In 2019-20, it is expected to grow at 6.75%.
Per capita income varies across the States with Rs 1.64,025 for Andhra Pradesh, Rs 96,887 for Chhattishgarh, Rs 2.26,644 for Haryana, Rs2,10,827 for Karnataka during 2018-19.