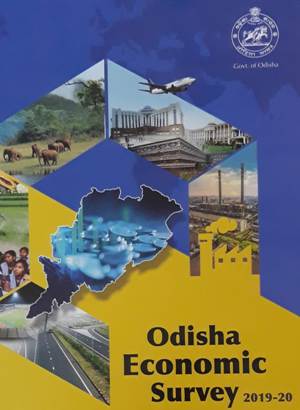 Bhubaneswar: Odisha's economic growth rate has declined to 6.16% in 2019-20(FY 20) as per advance estimation (AE) from 7.9% in 2018-19 due to general economic slowdown in the country. The Survey, however, highlighted that the Odisha's growth rate is higher as compared to India growth of 5%(AE)
"The State's real Gross State Domestic Product(GSDP) growth in 2019-20 declined compared to growth in 2018-19 due to lower agriculture production and deceleration in mining and manufacturing", said the Odisha Economic Survey-2019-20.
Stating that the economy of the State is largely driven by agriculture, manufacturing and mining, the Survey pointed out that the industries sector declined marginally at 39.6%, service sector decelerated to 40.5% in FY 20. The agricultural output saw a contraction due to the cyclone of 2019-20.
"The industries sector showed rising trend from 2015-16 to 2018-19 before declining marginally at 39.6% in FY 20, while share of services sector exceeded both industries and agriculture and allied sector and kept on rising from 38.5% in 2011-12 to 43.3% in 2015-16 and thereafter 39.9% in 2016-17, 41.6% in 2017-18 before it decelerated to 40.2% in 2018-19 and remained at 40.5% IN 2019-20."
While observing that the Cyclone of 2019-20 may cause contraction in agriculture output, the Survey viewed that the sector needs boost in activities like livestock rearing and aquaculture to support higher growth in agriculture and allied sector and these have the potential to be the drivers of sustainable agriculture grwoth.
The government is emphasizes on further growth with initiatives like Make-in-Odisha Conclave, adoption of Industrial Policy Resolution, 2015, Ease of Doing Business framework and new Agricltural Policy 2019-20.
Stating that the services sector has immense potential to generate employment in the formal sector, the Survey has said that tourism sector is a major engine of economic growth that contributes significantly in terms of GSDP, foreign exchange earings and employment. It has suggested that there is a need for further improvement at attract more tourists arrivals in the State.