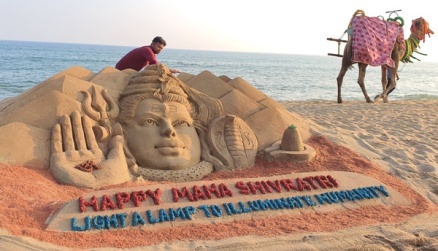 Puri: Happy Maha Shiv Ratri. International sand artist Manas Sahoo wishes the world with his sand art on the auspicious occasion of Maha Shiv Ratri.
Shaoo has created a 15 feet wide sculpture of Lord Shiva with 15 tonnes of sand on the Golden Sea Beach, near Baliapanda Lighthouse of the city.
As usual, the sand artist has his message for the global community. "Come let us light a lamp to enlighten humanity" is the message on the occasion of Maha Shiv Ratri.