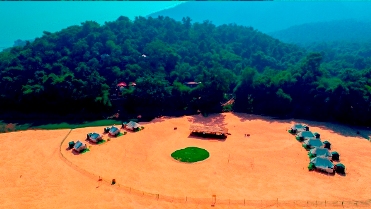 Bhubaneswar: The Satkosia eco-tourism project at Barmal, started in the year 2016 with 3 number of tented accommodations on the sandbar of river Mahanadi with an investment of Rs. 2 lakhs only with engagement of 6 villagers, has turned out be a big retreat now with 19 accommodations and annual income of Rs.1 crore with 34 villagers directly drawing employment from it.
This project is also the indirect source of livelihood for 7 to 8 Satkosia Tiger Sanctuary villages as they provide milk, rice, dal, vegetables, non-veg articles,travels to the project on daily basis. By the end of financial year 2018-19 the visitor number was 4450 with revenue of Rs.1.3 Crore and this year repeating the success story  the revenue by February'2020 has already reached Rs.1 Crore with more than 4500 visitors. The locals engaged in this project have been trained and they work in different capacity – manager, cook, service, receptionist, eco-guide, boatman. Most of the community engaged are rural women.  
Different programmes like "Know your Birds", "Poacher turned Protectors", "Walk in the Jungle" are run by the community in the Nature Camp. The destination was the first ever eco-tourism project in Nayagarh district and now it is one of the successful model of eco-tourism in State. Boating in Satkosia Gorge, Bird watching, Trekking, Sports, Library, Canopy Walk, Bathing Ghat in River for tourists, farm visits are the activities offered to tourists in the destination. Local villagers engaged in the project work as Eco Guides. All villagers of village Muduligadia are engaged in managing the Nature Camp and they are its stockholders.
States revenue while inception of Community Managed Ecotourism Projects in Odisha since 2016 has increased considerably and satisfactorily – from Rs 47 lakhs with 1900 visitors during 2016 to Rs.5.6 Crore with 20,000 visitors by 2019. Having a common booking portal ecotourodisha.com and 24hrs functioning Ecotourism Cell to assist the tourists has also made booking facility hassle free and visitor friendly. During the year 2019-20 Barehipani Nature Camp over looking the Waterfall in Similipal has also become very popular among tourists in few months itself.
H.S Upadhaya says – Our objective is to provide good experience to all visitors coming to Ecotourism destinations in Odisha and also I have observed increase in self confidence of community members specially women due to increase in their income from Ecotourism. From Badmul project each family last year have earned around 2 lakh per month. For increasing flow of tourists, Wildlife wing has also started dedicated trekking programme throughout the State like "Ecotrails Odisha" and training of villagers on natural history of flora, fauna, culture & proper hospitality.
The DCF Ecotourism, Anshu Pragyan Das, says – Like Badmul Ecotourism, other Ecotourism destinations which have become the backbone for livelihood support of rural communities are Nature Camps in Similipal which has also generated revenue of Rs.1Crore.7 Lakhs till date this year which is more than last year revenue. Debrigarh Ecotourism too has earned around 75 Lakhs till date against last years income  of 49.88 Lakhs. Daringbadi has almost earned double than last years income and this year it is- Rs.55 Lakhs till date. Bhitarkanika stands at 70 Lakhs.Introduction of Jungle Safari in Debrigarh & Chandaka has online booking facility has made both these destinations hub for youngsters & travellers.