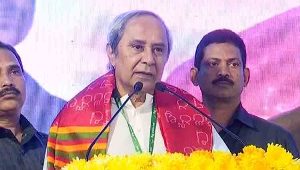 Bhubaneswar: Odisha chief minister Naveen Patnaik become the BJD president for the eighth time consecutively. Patnaik was declared the party president as there was no other nominations for the post after the State council meeting, held here on Wednesday.
In response to his getting elected to the party's top post, Patnaik said, "BJD fights to win the love of the people of this State and serve them and not to win elections."
BJD's State election returning officer Pratap Keshari Deb announced the election of Naveen Patnaik along with 80 others elected as party's State executive members. The State council meeting was attended by 355 members of the party.
The elections of the ruling BJD party, which was held in five phases since December 2019, came to end with election of party president and State executive members. The party's election are being held every three years.
After the demise of legendary non-Congress leader Biju Patnaik, his son Naveen Patnaik had founded BJD, a regional outfit, in 1997.