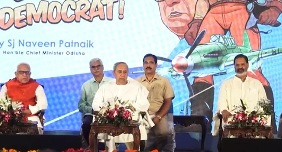 Bhubaneswar: Opposition leaders both from BJP and Congress showered praises on Odisha chief minister Naveen Patnaik's legendary father Biju Patnaik, here on Friday.
Narrating his encounter with the towering leader of the State, Narasingh Mishra, the leader of the Congress Legislative Party, said that Biju Babu was a great democratic leader. He used to give full respect to the dissent voices. Citing an anecdote, the Congress leader recalled how Biju Babu used to tolerate views of his ministers in the cabinet meeting even though those were not to his liking.
Mishra had fought the 1995 elections in Janata Dal ticket at the behest of Biju Patnaik even though he was a Communist Party of India's card hoder. Later, he joined the Biju Babu's cabinet as law minister.
The Congress leader was speaking at the launching of a comic book on Biju Patnaik, 'Adventures of a Daredevil Democrat'. The book was released by Odisha chief minister, Naveen Patnaik.
Speaking on the occasion, veteran BJP leader and former minister KV Singhdeo said that Biju Babu had great respect for opposition. Recalling an anecdote, Singhdeo said that Biju Babu had virtually made his political career. Patnaik, when he was the chief minister in early 1990s, he had thrown him in jail for 21 days. When he encountered Patnaik, the legendary leader told him he had deliberately put him in jail so that he would emerge as a big leader in BJP party. Biju Babu's logic was that a political leader get huge publicity when he was thrown into jail without any valid reason.
The chief minister, while releasing the book published by Kalinga Foundation Trust and the Creative Warehouse, said, "Biju Patnaik was a legend in his lifetime. Adventures of a Daredevil Democrat' is one such endeavour to remember one of our most loved leaders of Odisha, Biju Patnaik."
He said: "Many people describe him in their own perspectives and display many facets of his life. His adventures culminated in the rescuing of Indonesian leaders, his patriotism culminated in his participation in war missions, his compassion for poor reflected in doubling the minimum wage at one go, ………the list is endless. During the freedom movement, despite working as a pilot in Royal Air Force, he assisted nationalist leaders like Aruna Asaf Ali, Ram Manohar Lohia and carried them in a plane to safe places. He was a true nationalist leader who was at the forefront to reach Sri Nagar first during India's war against Pak Intruders in rescue Kashmir operation."