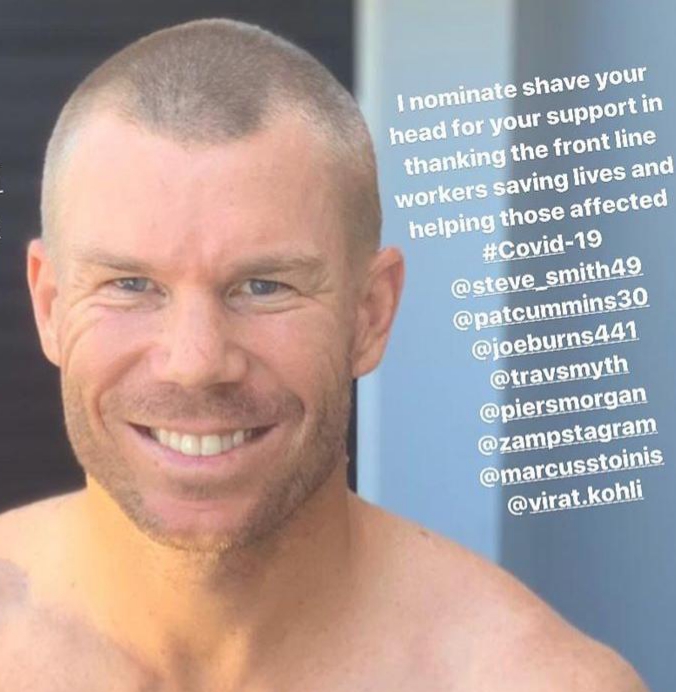 New Delhi: Australian opener and former vice-captain David Warner Tuesday expressed his support for medical staff those are fighting COVID-19 pandemic from the front in a different way.
He has shaved off his head to exhibit support to all medical staffs who are working tirelessly on the frontline in the fight against Covid-19. After shaving his head, the 33-year-old also asked his team-mate Steve Smith and Indian skipper Virat Kohli to do the same.
David Warner posted a time-lapse video on his official Instagram handle of him shaving his head, and captioned it, "Been nominated to shave my head in support of those working on the frontline #Covid-19 here is a time-lapse. I think my debut was the last time I recall I've done this. Like it or not".
Because of the Covid-19 pandemic, Australia's death toll stands at 19. As of 8 am this morning, 4,460 people across Australia have tested positive for SARS-CoV-2.
The World Health Organisation (WHO) had dubbed corona virus as a pandemic on 11 March 2020.
Earlier, the Aussie Test captain Tim Paine also asserted that the national team's tour of Bangladesh is improbable because of the corona virus outbreak.