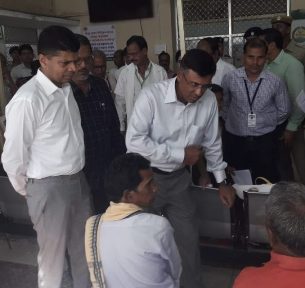 Bhubaneswar: Odisha chief secretary Asit Tripathy accompanied by chief minister's secretary VK Pandian has rushed to COVID-19 hot spots of Odisha on Tuesday to have a take on on the ground realities.
Tripathy and Pandian visited Kendrapada, Bhadrak and Jajpur and supervised the COVID-19 management arrangements by the local administrations.
Kendrapada, Bhadrak and Jajpur have reported one each COVID-19 positive cases in the last week. The State government has declared the Bhadrak city two day containment area. It has declared part Kendrapada a containment areas on Monday.